Treaty creating police force of the Americas signed
Friday, November 10th 2023 - 11:10 UTC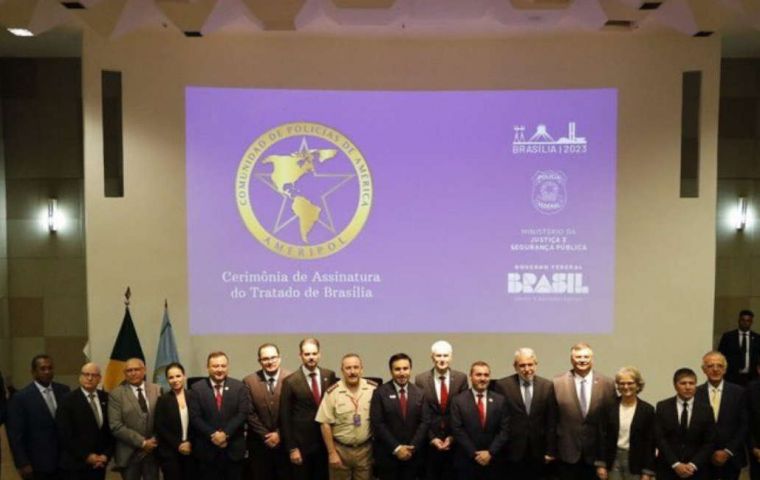 A new organization for police cooperation on the American continent was agreed upon Thursday with the Treaty for the Constitution of the Police Community of America (Ameripol) which will act in line with Interpol criteria, Agencia Brasil reported.
Endorsing the document were Argentina, Bolivia, Brazil, Chile, Colombia, Costa Rica, Ecuador, Haiti, Honduras, Panama, Paraguay, the Dominican Republic, and Uruguay. Although Ameripol has existed since 2007 and is made up of 30 countries, it has now been formalized with a legal constitution. Ameripol's headquarters will be in Bogotá.
Brazilian Justice Minister Flávio Dino stressed that Ameripol would focus on the internet to curb the actions of criminal organizations. "Transnational cooperation is not a choice, it is an imposition," he said during the ceremony in Brasilia.
According to Brazil's Federal Police Director-General Andrei Rodrigues, Ameripol will become the third largest police bloc in the world, behind Interpol and Europol.
The new treaty allows for the exchange of information, the creation of joint investigation teams, and agreements with other international police blocs, such as Interpol, in the fight against transnational organized crime.
Rodrigues, Ameripol's new secretary general, also pointed out there were plans to set up anti-drug units and other teams to combat human trafficking and immigrant smuggling in Brazil and Colombia, respectively, as well as a human rights office, to be set up in December, and a virtual network against terrorism, violent radicalism, and hate crimes.
The police chief also said that the organization "will provide all the countries and police forces of our continent with the necessary legal foundation, technological capacity, and adequate operational means to fight transnational organized crime and terrorism."
Ameripol's pro-tempore president, Argentina's Andrés Severino pointed out that the exchange of information will be essential to transcend cultural and geographical differences and guarantee the integration of the countries' security forces.
(Source: Agencia Brasil)