Yielding to public opinion, US Supreme Court releases a "Code of Conduct" for Justices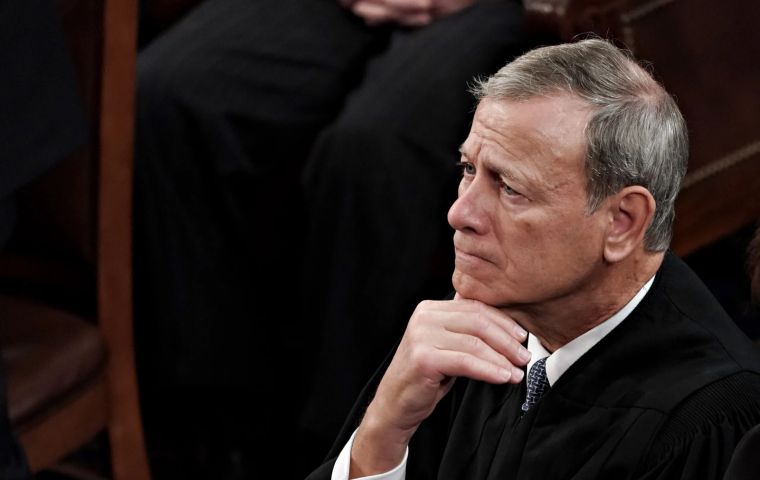 The United States Supreme Court on Monday made public an eight page "Code of Conduct" for Justices in response to years of criticism that the Court is not sufficiently transparent and underlining that its members should "avoid impropriety and the appearance of impropriety" in their actions on and off the bench.
Nevertheless progressive groups that have been the most outspoken critics of the John Roberts Court and its conservative majority said the code falls well short of what's needed.
In a statement accompanying the code, which all nine current Justices signed, the court said it was aimed at dispelling a "misunderstanding" that the Justices have long been operating "unrestricted" by any rules.
Chief Justice Roberts has asked court officials to review internal oversight mechanisms that ensure compliance with the code and determine whether additional steps need to be taken.
"For example, some district courts and courts of appeals have deployed software to run automated recusal checks on new case filings," a commentary attached to the code explained. "The Court will assess whether it needs additional resources in its Clerk's Office or Office of Legal Counsel to perform initial and ongoing review of recusal and other ethics issues."
Financial disclosure compliance by the justices will continue to be overseen by the court's Office of Legal Counsel and the Administrative Office of U.S. Courts' Financial Disclosure Committee.
The Court's announcement on Monday comes as Senate Democrats have advanced plans to impose a code of conduct on the justices with independent oversight and enforcement - an arrangement the justices have all found constitutionally problematic and oppose.
A wave of news reports exposing Justice Clarence Thomas' unreported financial ties to and luxury travel with a billionaire GOP donor ignited the latest round of high court ethics scrutiny.
The ethics controversies also touched Justice Samuel Alito who was accused of accepting and failing to report private jet travel and a stay at an Alaskan fishing lodge. Justice Sonia Sotomayor, the court's senior liberal justice, was accused of using taxpayer-funded court staff to push sales of her books on college campuses.
Several justices, in a nod to public pressure, have recently gone public endorsing the idea of an ethics code in. Justice Amy Coney Barrett last month said one would be a "good idea." In September, Justice Brett Kavanaugh said he was "hopeful" a code would be adopted and that it might "increase confidence" in the Court's work.
Justice Elena Kagan earlier this year said the new code would be a "good thing" for the court but that it did not mean they don't follow any rules.
The new code restates much of what the justices outlined in a rare joint statement in April, vowing a commitment to the "integrity and independence of the judiciary" and avoiding conduct that might compromise impartiality.
"A Justice should not allow family, social, political, financial, or other relationships to influence official conduct or judgment," the code says. "A Justice should neither knowingly lend the prestige of the judicial office to advance the private interests of the Justice or others nor knowingly convey or permit others to convey the impression that they are in a special position to influence the Justice."
The code advises justices not to speak publicly about matters before the Court, but says they may make public appearances and engage in activities that include "civic, charitable, educational, religious, social, financial, fiduciary, and government activities" unrelated to the law.
"A Justice should not participate in extrajudicial activities that detract from the dignity of the Justice's office, interfere with the performance of the Justice's official duties, reflect adversely on the Justice's impartiality, lead to frequent disqualification," it says.
But most outspoken critics of the conservative Court said the code falls well short of what's needed.
"With 53 uses of the word 'should' and only 6 of the word 'must,' the court's new 'code of ethics' reads a lot more like a friendly suggestion than a binding, enforceable guideline," said Sarah Lipton-Lubet, president of Take Back the Court Action Fund, a liberal advocacy group.