Paraguay and Venezuela resume diplomatic ties
Thursday, November 16th 2023 - 10:09 UTC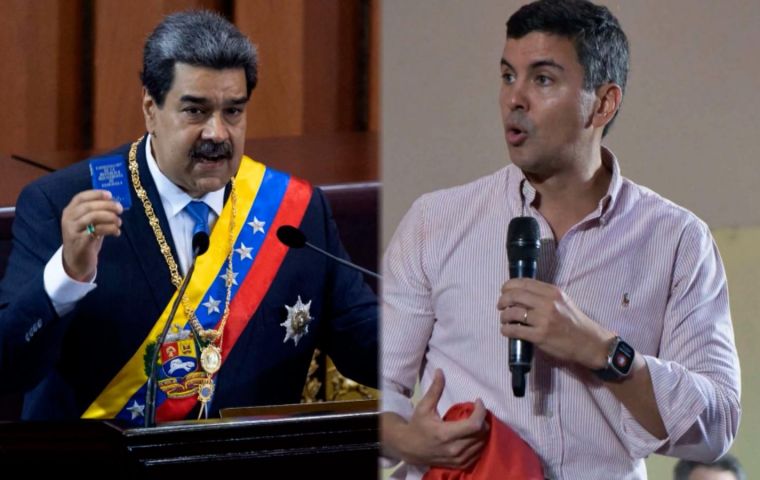 Paraguay and Venezuela agreed on Wednesday to resume diplomatic ties cut under former Paraguayan President Mario Abdo Benítez in January 2019. At that time, the then-president of Venezuela's National Assembly, Juan Guaidó, proclaimed himself president of a government that ended up in exile despite the backing of the international community and eventually vanished like a soap bubble.
After talks between Presidents Nicolás Maduro and Santiago Peña, both governments pledged to "advance in good coexistence" and appoint new ambassadors and consuls "in the coming days."
"Both parties committed themselves to resuming bilateral relations with full respect for the fundamental principles of equality of rights, self-determination of peoples, non-interference in the internal affairs of other States and solidarity; also based on the principles of Latin American integration and unity," a statement from the Foreign Ministry in Asunción read.
In his first press conference as president-elect on May 2, Peña said he was willing to reestablish relations with Venezuela. "We cannot ideologize diplomatic relations and integration," Peña said at the time. "Restoring relations with Venezuela is a decision I announced even before the elections," he added while insisting that having diplomatic relations with Venezuela did not prevent him from having a critical position on possible human rights violations and the lack of political openness.
"We want to be a voice also for the people of Venezuela, as Paraguay has historically been," Peña also said while insisting on the need for "clean, transparent and participatory elections."
Peña and Maduro ratified the principles of Latin American integration and unity, as well as the interest in preserving the "natural friendship and solidarity between our peoples."