Uruguay's Navy turns 206 years old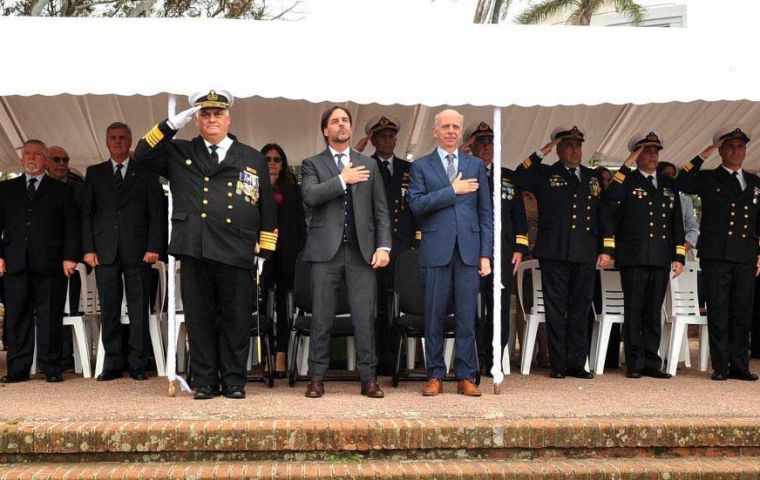 The Uruguayan Navy celebrated its 206th anniversary Wednesday during a ceremony attended by President Luis Lacalle Pou, Defense Minister Javier García, Navy Chief Admiral Jorge Wilson, and other high-ranking officials, according to reports from Montevideo.
In his speech, García highlighted the fact that during his tenure, eight ships have been or will soon be added to the force as part of a fleet renewal strategy. "In three and a half years of government, we are fulfilling a 20-year aspiration of the National Navy to have ships that can take care of our sea," he said. García also spoke of the purge that the Navy has suffered as qualified personnel trained there ended up working for private companies.
After singing the national anthem, Lacalle Pou, García, and Wilson laid a wreath at the foot of the monument to fallen officers.
As is customary, senior and junior officers who have retired in the last twelve months were awarded the National Navy Medal during the event.
The National Navy of Uruguay was formally established on Nov. 15, 1817, making it one of the oldest institutions in the country, playing a crucial role in the protection of national sovereignty, maritime security, and territorial integrity, defending the honor, independence, and peace of the country, safeguarding its strategic resources at the maritime, fluvial and lacustrine levels. It has been involved in the creation of a fluvial merchant navy, the organization of a fluvial squadron, the establishment of corsair warfare, and the opening of rivers.