Sánchez re-elected Prime Minister of Spain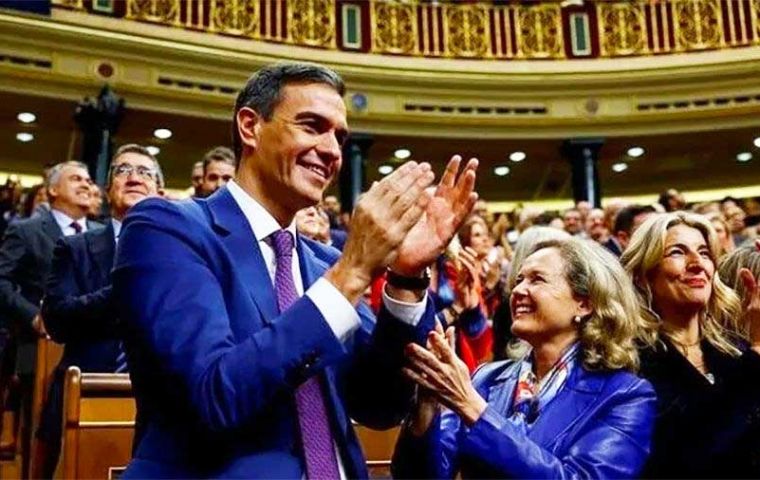 Spain's parliament on Thursday re-elected Socialist Pedro Sánchez as prime minister by 179 votes to 171, it was reported in Madrid. "I declare the confidence of the Congress in Mr. Pedro Sánchez," announced the speaker, Francina Armengol.
In thanking the news, Sánchez, who has been in office since 2018, stressed that 179 votes in favor is equivalent to "12.6 million citizens of our country" supporting him and his leftist coalition, which includes regional pro-independence parties, as amnesty is on the table for their convicted leaders. Sanchez will be sworn in before King Felipe VI at the Zarzuela Palace early Friday.
The acting head of government will return to office with full powers, which were suspended when he decided to dissolve the legislature and call early elections for July 23, hours after losing the autonomous and municipal elections on May 28, in which the Spanish Socialist Party (PSOE) came in second behind the opposition and right-wing Popular Party (PP) of Alberto Núñez Feijóo, who was tasked with forming a government but failed to do so.
Sanchez supports granting amnesty to pro-independence leaders involved in Catalonia's 2017 secessionist attempt, and said he would implement a reduction in VAT on food until June 2024 and free public transport for all minors and young people, as well as for the unemployed, starting January 1.
The prime minister's votes came from the PSOE (121), the radical left Sumar (31), the Catalan pro-independence formations Juntos por Cataluña (7) and Izquierda Republicana de Cataluña (7), the Basque Nationalist Party (PNV, 5), the Basque pro-independence Bildu (6) and the single seat of Coalición Canaria.
"I know that the process that has brought us to this day and this moment has not been easy for you, just as it has not been easy for me," Sánchez acknowledged.
The opposition has accused Sánchez of handing the reins of government to "fugitive" Catalan separatist leader Carles Puigdemont, who fled to Belgium to avoid imprisonment. In this scenario, Sánchez will be "subject to a monthly contract" with the independentists, Núñez Feijóo warned.