Argentine government and consultants anticipate a great 2023/24 agricultural year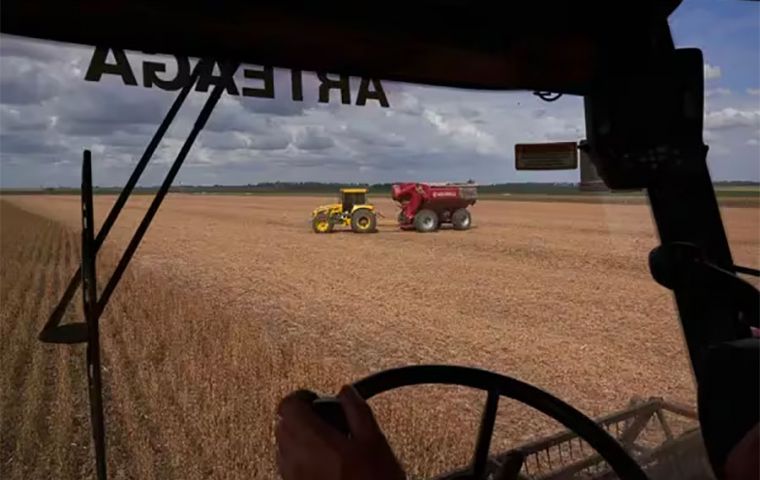 Under pressure from the Argentine incumbent presidential candidate for this Sunday's election runoff, and current Economy minister, Sergio Massa, grain markets in the country are forecasting a promising boom for the next agriculture year, with recovered crops and increased revenue to the tune of some US$ 20bn.
This compares with the drought stricken current agricultural season which has seen overall production of soy beans plunge to 20 million tons and a revenue loss of US$ 18bn. Under the scheme Massa has been promising for next year, if he is finally elected president, agricultural production is expected to increase 150%, to some 50 million tons, plus an additional revenue of US$ 20bn, "which should help bring inflation down, --currently close to an 150% annual rate-- combat food prices and poverty, and replenish Central Bank foreign reserves".
Playing to that tune and hoping the next Argentine government offers the agriculture sector a more realistic foreign currency exchange rate (currently 360 Pesos to the US dollar while the free market is closer to 900 Pesos, with a monthly inflation of 12%), both the Rosario Stock Exchange, BCR, and the Buenos Aires Grain Exchange, BCBA, anticipate for the 2023/24 harvest a 150% overall production increase and 125% more revenue compared to what happened this year.
"October became a decisive month for Argentine crops. Long-awaited rains helped restore soil moisture profiles in key regions, although even more millimeters of rain are still needed west of Buenos Aires and in the north-central region of Córdoba," stated the BCBA exchange's report.
Combined with the largest planted area in six years, spanning 17.4 million hectares, "this allows us to project soybean production of 50 million tons; that is two and a half times the amount obtained in the previous cycle," explained the exchange's report.
"With this, it can be predicted that the processing by the Argentine oil industry would increase to 39 million tons, an increase of nearly 50% compared to the previous cycle," said the exchange.
Considering climatic conditions, there would be an additional influx of around US$10 billion compared to the previous campaign and above the average of the last five years, although still below the 2020/21 and 2021/22 values.
As for the planting progress, the Buenos Aires Grain Exchange indicated that, so far, an area 8.75% larger than the 2022/23 season has been planted, as "the oilseed receives 400,000 hectares from the area designated for early corn that was set aside due to a lack of rain."
In Argentina, 30% of export dollars originate from the agro-complex. Therefore, the revival of the oil industry, crucial for Argentine foreign trade, is anticipated as a boon, as stated in the Rosario Stock Exchange's study.
The report also added that "most of the revenue from foreign sales historically occurs in the first two quarters of the market year, representing an average of 61% of the export value." Hence, "we could expect a normalization in foreign trade volumes from April next year."
Finally let's add that experienced wheeler dealer Massa, also known as the ';pancake,' or 'serial liar' is facing at the Argentine Sunday election runoff, Javier Milei, an ultra libertarian, who blames government for all market evils. Milei although having a great impulse originally, some of his proposals, maybe too radical ideas, seem to have scared some of his followers.