The Kirchner couple, the most influential figures in Argentina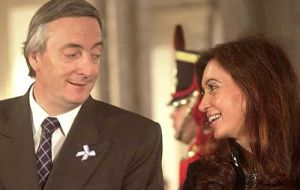 Argentina's president Nestor Kirchner and First Lady Cristina Fernandez are considered the most influential personalities of the year in the country, from a list of a hundred outstanding figures, according to an opinion poll released Monday in Buenos Aires.
Mr Kirchner leads for the fourth year running with 418 votes out of 500 interviews done in Buenos Aires between December 6 and 11 by consultants Giacobbe & Associates. However the outstanding fact of the twelfth edition of the survey is that Senator Cristina Fernandez de Kirchner figures in second place with 282 votes, one step higher than her third place in 2005. Her surge is attributed to the increasing rumors of her possible candidacy for next year's October presidential election if her husband finally desists from running for re-election. Mr. Kirchner has figured top of the list since becoming president in 2003. The survey basically asked for the names of those persons, physical or legal, Argentine or foreign who had the greatest influence in Argentina during 2006. US president George Bush came out sixth in the list followed by Venezuela's Hugo Chavez. Actually President Bush dropped two places and Chavez climbed one in a year when Venezuela and Argentina's leaders established closer links. Far behind in place 28 figures Brazilian president Lula da Silva and for the first time placed 48, Uruguayan president Tabare Vazquez, which is believed to be linked to the growing controversy over the construction of pulp mills. Behind the Kirchner couple figures Marcelo Tinelli, an outstanding television show man and in fourth place Mauricio Macri, president of the popular soccer team Boca Juniors who is also a successful businessman and presidential hopeful.