Uruguay ratifies support for Spain's "facilitating" efforts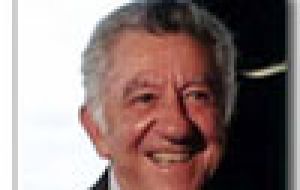 Uruguay denied Wednesday it had rejected Spanish King Juan Carlos' "facilitating" efforts, following press reports in Buenos Aires attacking Uruguay for allegedly having desisted of the royal support to reestablish dialogue in the pulp mills controversy.
Uruguayan Foreign Affairs minister Reinaldo Gargano said that the Argentine reports misinterpreted the significance of a telephone conversation between President Tabare Vazquez and Spanish Foreign Affairs minister Miguel Angel Moratinos, which actually was "to reassure Uruguay's support to the "facilitating" process". La Nacion from Buenos Aires published an interview with Uruguayan ambassador and delegate before the International Court of Justice in The Hague, Hector Gros Espiel, where he is quoted by the newspaper's special envoy stating that "the "facilitation" process of King Juan Carlos is over" and the decision will remain on hold "until route pickets are lifted". A release from Uruguay's Government House reported that Mr Moratinos contacted President Vazquez, who ratified "his full support, trust and gratitude to His Majesty the King of Spain and his Foreign Affairs minister for the "facilitation" process on course". However President Vazquez insisted that "Uruguay will not reestablish dialogue (with Argentina) while the blockade of the two bridges that link us with Argentina remain" and the release underlines that Minister Moratinos expressed his "full understanding" of the Uruguayan position. Gargano recalled that Uruguay has been very clear from the very start of the controversy and has always stood by its policy that "with bridges blocked, with Uruguay blocked, there's no possible negotiation" and added a recommendation. "It's much more useful and constructive to wait for the International Court's ruling". Nevertheless from Buenos Aires Argentina's Foreign Affairs minister Jorge Taiana insisted he "regretted" the statement from Uruguay's head of delegation to the International Court of Justice in The Hague saying it was senseless to keep on with King Juan Carlos dialogue facilitating efforts if route pickets by Argentine environmentalists persist. The Uruguayan delegate's statement "demerit the important diplomatic efforts sponsored by the King of Spain". "When Spain's special envoy and "facilitator" (Ambassador Juan Antonio Yañez) is trying to build a foundation for dialogue, it's essential to keep expressing willingness to cooperate and gratitude for the mission undertaken", insisted Taiana.