Psychiatric tests to decide Peron's wife extradition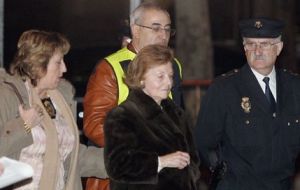 Former Argentine president Maria Estela Martinez de Peron, 75, will undergo psychiatric tests to determine whether the absences and mental fragility exposed before a Spanish judge were real or "simulated" to avoid extradition.
Mrs Peron is wanted in Argentina in connection with the disappearance of a leftist activist in 1976 and the activities of a right wing paramilitary group during her time in office including the signing of three decrees calling on the Armed Forces to "annihilate" subversives. Ms Peron who lives in Spain since 1981 was detained and questioned last Friday by the Spanish police and justice, following an arrest warrant from an Argentine judge, but was later released from custody. She has to report to the police every fifteen days. Argentina has now forty days in which to file an extradition request. "At moments she seemed lost, as if she didn't know what was going on", according to Spanish judicial sources. Mrs Peron admitted before Spanish Judge Del Olmos she has "psychiatric problems" with symptoms of "absence and hallucinations" for which she is under medical treatment. However in depth psychiatric tests will determine the real mental situation of Mrs Peron and help decide if she's extradited to Argentina. Her defense could also fight extradition on the basis of her dual Argentine Spanish citizenship. Ten years ago Spanish Judge Baltasar Garzón questioned the widow of Argentina's strong man and at that time she described herself as "a poor woman" who became president "on God's will" and when specifically asked about a terrorist group she replied that "I believe they are a folk music group". In Buenos Aires her attorney Atilio Neira said Mrs Peron had no knowledge at all of possible links or contacts between her administration and the notorious paramilitary death squad Triple A. "It was a particularly convulsed moment and Mrs Peron had in no way access to non manipulated information because she was under constant pressure from the military and political groupings including from her own party", said Neira. "She knew absolutely nothing about contacts or links between her government and the Triple A", he added pointing out to her close aide and protector "Jose Lopez Rega and the Armed Forces". "You can't blame her for having had to face on her own with no means the huge legacy of Peron. At the time virtually nobody obeyed the Presidency", said Neira. Peron's third wife became president on her husband's death July 1974 until March 1976 when she was ousted by a military coup.