Argentine industry grows for fourth straight year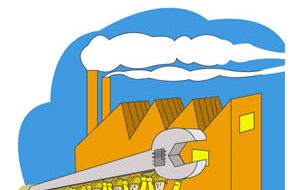 Argentina's industrial production grew 8.3 percent last year mainly fuelled by a good performance in the car, construction and food sectors, achieving 50 straight months of growth, according to the state-run INDEC statistics and censuses agency.
After a 10.6 percent decline in 2002, amid the country's worst-ever economic crisis, industrial output grew 16.2 percent in 2003, 10.7 percent in 2004 and 7.7 percent in 2005. The 12 sectors monitored by the INDEC rose last year. The number of workers employed last year grew 5.3 percent while working hours rose 4.4 percent and salaries 25.2 percent. The country's economy has grown at a yearly average of about nine percent over the last four years. Industrial production grew 8.9 percent in December as compared to the same month of 2005 and rose 0.5 percent from November 2006. Installed capacity last year was 73.6 percent. In December 2006 installed capacity was 72.2, with little change from the 71 percent of December 2005. According to the government that shows that investments in the industrial sector are rather mature and allow to expand production without exhausting the installed capacity. For instance, car production led the increase last year with a 32.2 percent growth with an installed capacity of only about 50-60 percent, followed by the non-metallic minerals linked to construction, which grew 15 percent on an installed capacity of between 60 and 73 percent. The food sector came in in a far third place with a 7.1 percent increase on an installed capacity of between 70 and 76 percent during the second half of the year. Meanwhile, 51.7 percent of businessmen polled by the INDEC said that industrial production will remain stable between January and March while 46.6 percent said that it will grow and 1.7 percent said that it will decline. Regarding exports, 50.9 percent think that they will grow, 8.7 percent expect a decline and 40.4 percent say that exports will remain stable through March. As for manpower, 15.5 percent of the businessmen polled think that they will have to hire more workers, 1.7 percent think that their staff will decline and 82.8 percent see no change. However, 50.1 percent see working hours growing, 48.1 percent expect them to remain stable and 1.8 percent expect them to decline. Labour Minister Carlos Tomada has said that the main mechanism for salary increases have been the collective bargaining agreements, which benefited 4.2 million workers between 2003 and 2006. Last year 494 collective bargaining agreements were signed versus 365 in 2005.