Pulp mills dispute: Uruguay expects favorable ruling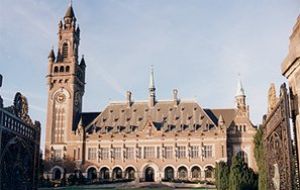 The Uruguayan government is confident of a positive ruling from the International Court of The Hague calling for an end to blockades by Argentine environmentalists protesting against the construction of a pulp mill on the Uruguayan side of a shared river that acts as a natural border between the neighboring countries.
The long lasting legal battle over Finland's Botnia-Orion pulp mill on the Uruguay River will move from the daily irritations in the three border crossings and sour relations with Buenos Aires to The Hague where Uruguay expects this Tuesday a ruling that guarantees the free circulation of people and goods across the international bridges linking both countries. "Uruguay has suffered for a long time and significantly the blockage of bridges, with negative consequences for tourism, the free circulation of people and goods but we expect and encourage a quick solution" to the dispute said Reinaldo Gargano, Uruguay's Foreign Affairs minister. "We have solid reasons to believe and expect the International Court to rule in our favor thus normalizing a situation which at international level has helped create a vision of political tension with Argentina, which really does not exist", he added. "We will abide by the ruling, whatever its result, but Uruguay will continue to argue that blockage of bridges is in violation of Mercosur's charter and international rules", he said arguing that "we've always acted with a spirit of open dialogue". Asked about Argentina's attitude towards a ruling from the International Court, Gargano said he would rather wait and see but "I imagine they will abide, why appeal to the court if not?" However Uruguayan diplomatic sources revealed that if Buenos Aires ignores the ruling, Montevideo will appeal to the United Nations Security Council, although Gargano insisted he preferred not to advance events and "encourage a definitive solution to the dispute". Claiming potentially irreparable damages to the environment, residents from the Argentine city of Gualeguaychu, just across from Fray Bentos where the pulp mill is 75% finished, have been since last November established a permanent blockage of the international bridge, while two other options further north in Colon and Concordia have been sporadically blocked by pickets. This Tuesday the International Court could order Argentina to guarantee the free circulation of people and goods in border crossings; reject Uruguay's appeal or declare itself with no competence in the matter. Roberto Puceiro a law professor and member of the Uruguayan team in The Hague described Uruguay's claim as "solid" and "impeccable", however he admitted that the full interpretation of "provisional measures" limiting new actions, could very well end in a formal reiteration for both litigating sides to restrain from innovating or worsening the dispute's considerations. The original appeal, still under consideration, was from Argentina claiming that Uruguay violated the 1975 River Uruguay agreement which contemplates the joint administration and decision making regarding the use of water and other resources in the basin. However Argentine international law experts believe the ruling will benefit Uruguay and Argentina will have to abide by ensuring free access to bridges which is now severely limited by pickets. Judge Horacio Piombo said route blockages are non admissible while there's a judicial action in process since it can configure "taking the law into one's own hands" and "full responsibility falls on the state". Argentina subscribed an integration treaty with Uruguay and the Court will not tolerate blockages, "ordering the status quo to be respected". Argentina has subscribed the Vienna Treaty which makes countries act in good faith and Argentina voluntarily appealed to the International Court "so it can't refuse to abide a ruling even if its contrary to its interests", said Orlando Pulvirenti from Argentina's National Law Academy.