Uruguay "deeply concerned" with summits' protocol routine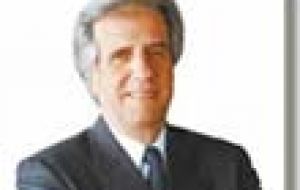 Uruguay's Tabare Vazquez said he was "deeply concerned" fearing that the recurrent regional summit with the participation of Latinamerican leaders could turn into a mere "protocol routine".
In an opinion column published in Madrid's "El País" Uruguay's president recalls that in the last 76 days Latinamerican leaders have met in four regional summits linked to the economic integration project for the area. It's relevant, because paradoxically it runs the risk of turning into the opposite", says Vazquez in direct reference to the Ibero-American summit held in Montevideo last November; the Africa-South America summit at the end of the same month in Nigeria; the II South American Community summit in Bolivia at the beginning of December and the recent Mercosur summit in Rio do Janeiro. Vazquez admits that "never before" has their existed such political willingness to address common challenges or so many resources, but warned that "if intentions don't materialize they run the risk of diluting generating further frustrations to a history, such as that of South American integration, that has accumulated several". "The resolutions and declarations from the annual Ibero American and South American Communities summits or the twice a year Mercosur summits, even when important, are not sufficient", said Vazquez emphasizing that the people like to see "results". These resolutions "don't solve pending issues or guarantee the achievement of planned targets" points out Vazquez adding that piling issues in summits can be significant but "one thing is summits well attended and another, the succession of meetings that can end like a protocol routine". "My brief and modest experience allows me to express deep concerns", said Vazquez who nevertheless said Uruguay will continue to support summits "where open, frank, productive and decision making dialogue is part of the natural political process with sustainable agreements". Further on he underlines that Uruguay's commitment to regional integration in spite the fact "we are a territorial and demographically small country", Uruguayans are "conscious of our strengths and our limits". As to Mercosur, Vazquez said the South American customs union was going through "a major definition process" and insisted that "we will become an integrated region when we act and recognize it as such". "Integration is not a question of territories, but demands a strategy which given the lack of a definitive project, is also proving insufficient", remarked Vazquez who in the last Mercosur summit was critical of the functioning of the group demanding more flexibility from senior members towards junior members.