Hudson volcano rumbling and fears of an eruption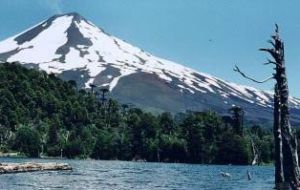 Chilean authorities in the XI Region of Aysén are closely monitoring the repeated tremors in the area and are prepared for the event of a major seism or the eruption of the Hudson volcano.
The head of Chile's Ministry of Interior Regional Emergency Office Juan Azocar said Wednesday that the frequency of tremors had significantly increased to fifteen minutes, having surpassed twenty telluric movements by mid day. Although accustomed to minor seismic activity and rumblings, the current situation has alarmed residents from Puerto Aysen and Puerto Chacabuco in southern Chile who have appealed to local authorities. "In the event of an earthquake we're ready to act, in the event of an eruption we're ready to act, we're talking of two different fronts, seismic activity and the Hudson volcano, which we are monitoring every hour", said Azocar. Nevertheless he pointed out that data collected and back information "can reasonably allow us to state that there's no immediate risk of an eruption". Puerto Aysen begun trembling last Monday with an initial seism rated 5 in the Mercalli scale, and has since intensified in frequency not necessarily in intensity with 18 movements registered between Tuesday night and early Wednesday and a peak of Mercalli 6 at 02:30 in the morning. In 1991 the prolonged eruption of volcano Hudson covered with ash southern Chile, vast tracks of Argentine Patagonia and blown by the wind reached as far as the Falkland Islands. The plume traveled around the world. It was visible to airline pilots near Melbourne, Australia about 9,400 miles (15,000 km) from the volcano. The volcanic ash caused great animal losses in Patagonia because whole patches of land were rendered useless for grazing and feeding.