Lula's 4 year economic plan faces crucial negotiations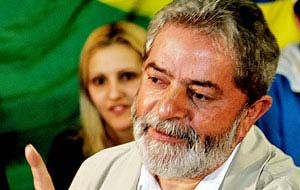 Brazilian president Luiz Inacio Lula da Silva called Tuesday for "unity and hard work" from all leaders of the ruling coalition to ensure the quick approval of the economic package recently announced and which is the backbone of his second mandate.
Analysts believe Lula da Silva fears that some measures such as tax exemptions for businesses and the creation of an infrastructure fund could end stalled in Congress thus slowing the whole package to prop the Brazilian economy, the largest of South America but with one of the slowest expansion rates in the last four years. Recent history shows that some members of the ruling coalition have voted against or abstained in such crucial projects for the Lula da Silva administration as the new minimum salary, among others. Lula "asked us to work hard for the package's approval", said Deputy Renato Casagrande leader of the Brazilian Socialist Party, one of the eleven groups that make up the ruling coalition, after meeting with the president. Casagrande also revealed that Congress would act as mediator between the federal government and the 27 states which last Monday presented several modifications to the original Program for Growth Acceleration, PAC. President Lula da Silva officially presented his initiative January 22, a four year plan to boost the country's infrastructure that contemplates private and government investment to the tune of 236 billion US dollars. The plan which is expected to boost Brazilian economic expansion to 5% beginning 2008 also includes fiscal rebates but business associations, trade unions and the Congressional opposition have warned that PAC, as currently drafted, is "insufficient" and leaves aside such crucial issues as reforming the social security system. Furthermore governors, who really dominate their states' representatives in Congress would like to see the federal government "share" the monies collected annually, particularly the 0.38% levy on each banking operation. "We're not in a match to see who makes more money", said Casagrande who insisted he found President Lula da Silva "very flexible" regarding the governors' demands with whom he's scheduled to meet next week in the Planalto.