Where do rich countries' children fare worse? US & UK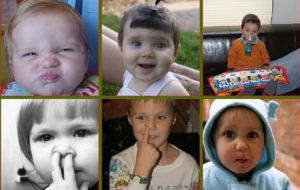 United States and Britain ranked at the bottom of a U.N. survey of child welfare in 21 wealthy countries that assessed everything from infant mortality to whether children ate dinner with their parents or were bullied at school.
The Netherlands, followed by Sweden, Denmark and Finland, finished at the top of the rankings, while the U.S. was 20th and Britain 21st, according to the report released Wednesday by UNICEF in Germany. One of the study's researchers, Jonathan Bradshaw, said children fared worse in the U.S. and Britain â€" despite high overall levels of national wealth â€" because of greater economic inequality and poor levels of public support for families. "What they have in common are very high levels of inequality, very high levels of child poverty, which is also associated with inequality, and in rather different ways poorly developed services to families with children," said Bradshaw, a professor of social policy at the University of York in Britain. "They don't invest as much in children as continental European countries do," he said, citing the lack of day care services in both countries and poorer health coverage and preventative care for children in the U.S. The study also gave the U.S. and Britain low marks for their higher incidences of single-parent families and risky behaviors among children, such as drinking alcohol and sexual activity. Britain was last and the U.S. second from the bottom in the category focusing on relationships, based on the percentage of children who lived in single-parent homes or with stepparents, as well as the percentage that ate the main meal of the day with their families several times per week. That category also counted the proportion of children who said they had "kind" or "helpful" relationships with other children. The report's authors cautioned that the focus on single-parent families "may seem unfair and insensitive" and noted that many children do well with one parent. "But at the statistical level there is evidence to associate growing up in single-parent families with greater risk to well-being â€" including a greater risk of dropping out of school, of leaving home early, poorer health, low skills and of low pay," the report said. On average, 80% of the children in the countries surveyed live with both parents. There were wide variations, however, from more than 90% in Greece and Italy to less than 70% in Britain and 60% in the U.S., where 16% of adolescents lived with stepfamilies. The study ranked the countries in six categories, based on national statistics: material well-being, health and safety, education, peer and family relationships, behaviors and risks, and young people's own subjective sense of well-being. Both the U.S. and Britain were in the bottom two-thirds of five of the six categories. The U.S. finished last in the health and safety category, based on infant mortality, vaccinations for childhood diseases, deaths from injuries and accidents before age 19, and whether children reported fighting in the past year or being bullied in the previous two months. Britain finished at the bottom in behaviors and risks, which considered factors such as the percentage of children who had breakfast, ate fruit regularly, exercised, were overweight, used drugs or alcohol, were sexually active or became pregnant.