Carnival: Rio De Janeiro Expects 700,000 Tourists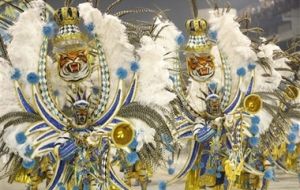 Despite ongoing violence that has shaken Rio de Janeiro for months, the Brazilian city on Wednesday said it expects 700,000 tourists for its world-famous Carnival celebrations this year.
The city's Tourism Secretary Rubem Medina estimated that Rio will earn about 500 million dollars from tourist activities, compared to about 15 million dollars that city authorities have invested in the celebrations. The high point of Rio's celebrations is the samba parade on Sunday and Monday nights when 13 of the city's top-tier carnival groups will parade through the specially designed "Sambadromo" stadium, which holds 60,000. "I believe there is nothing like it anywhere in the world," Medina said. Publicity campaigns abroad to advertise the most famous Carnival in Brazil had succeeded in countering the negative effect of news reports on ongoing violence in Rio de Janeiro, Medina said. "We have the greatest New Year's celebrations in the world and the greatest Carnival. Rio de Janeiro remains an icon of Brazil," he said. Carnival celebrations also were taking place in other cities across Brazil, such as Salvador and Olinda on the country's northeastern coast where festivities got under way Thursday.