Colombia names former hostage Foreign Affairs minister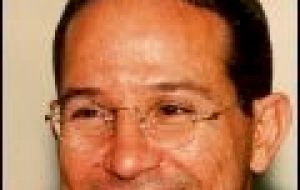 Colombian president Alvaro Uribe appointed Fernando Araújo Perdomo as Foreign Affairs minister, a former cabinet member who on December 31 escaped from six year guerrilla captivity.
"The president of the republic informs his compatriots that he has designated as foreign minister Fernando Araujo Perdomo" said an official statement by the presidency on Tuesday. Fernando Araújo, 51, was named hours after Maria Consuelo Araujo resigned amid a growing scandal linking the political establishment and far right paramilitaries. Ms Araujo announced her resignation four days after her brother, a senator, was jailed on charges of colluding with the paramilitaries and the kidnapping of a potential political rival. The incoming minister is a civil engineer from the city of Cartagena who was Development minister in 1998 with the former president Andres Pastrana administration. On December 4 of 2000 he was kidnapped by the FARC guerrillas while jogging along the city's coastal promenade. Although his family had paid the ransom demanded by FARC, he managed to escape during a military attack with helicopters on the camp he was held captive at the end of 2006. He is one of the 59 politicians, soldiers and police men that have been held by FARC during the last nine years with hopes of exchanging them for 500 imprisoned guerrillas. On recovering freedom Araujo promised to keep working for the liberation of all hostages and political prisoners and several political groups proposed his name to President Uribe as Colombia's Peace Counselor. His naming as Foreign Affairs minister came as a surprise. He faces an uphill battle, particularly in the US Congress where Colombia is strongly lobbying for the approval of a free trade agreement with the US, which is being questioned by opposition Democrats given Colombia's human rights record and by trade unions and environmentalists.