Brazil could begin to relax its strict monetary policy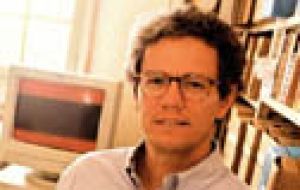 Brazil has named a strong critic of the country's Central Bank strict (and controversial) monetary policy as representative before the International Monetary Fund, IMF, according to a release from the Finance Ministry.
Paulo Nogueira Batista Jr an economics professor from Sao Paulo and a close associate of Finance Minister Gudio Mantega will replace former Central Bank board member Eduardo Loyo as executive director of Brazil in the IMF. His nomination has strengthened market perceptions that President Lula da Silva might have decided to loosen the tight, orthodox, high interest rates policy of his first four year mandate. Mr. Loyo has been an outspoken supporter of the current Central Bank hard line policy. Nogueira Batista will be taking his post next April following consultations with eight other Latinamerican countries which together with Brazil have a one vote right in the IMF board, added the ministry. IMF made no comments. Brazil which was once one of the countries which most appealed to IMF credits has repaid all loans and has no pending debts with the multilateral organization. Nogueira, 51, has been a systematic critic f the IMF and has regularly attacked the Central Bank's conservative monetary policy. In a recent opinion column in the Folha de Sao Paulo Nogueira argued that Central Bank policies were harming Brazil's economic expansion. The bank has followed a most orthodox monetary policy taking the Selic reference rate up to 19.75%, but since September 2005 has gradually reduced it to 13%, still one of the world's highest real interest rates, particularly since Brazilian inflation has ranged between 5 and 6%. Market estimates indicate that Brazil last year expanded 3%, well below the 5% anticipated by Lula and which he promised to sustain during his second four year term. President Lula has been under strong pressure from his own ruling coalition that has been demanding lower interest rates because the current policy "has overvalued the Brazilian currency and is impeding Lula from honoring his growth promises". Labor minister Luiz Marinho and a former union leader like Lula da Silva and the Workers Party chairman Ricardo Berzoini have publicly demanded that the Central Bank speed the reduction of the reference rate "to help depreciate the currency so as to boost exports and job creation". "The Central Bank's obsession with its fight against inflation has turned into an obstacle for President Lula's target of boosting economic growth", said the Lower House whip of the ruling collation Fernando Ferro. Brazil's Central Bank is headed by Henrique Meirelles a former Bank of Boston CEO. Finance minister Mantega and Nogueira Batista worked together at the Getulio Vargas Foundation, a prestigious economic research institute and famous for its Business Administration School.