Chavez "can scare away" investors from South America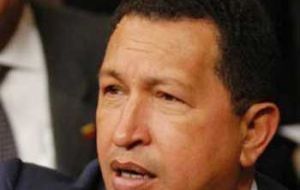 Venezuelan President Hugo Chávez can scare away investors in South America, who may prefer to invest in other regions, US Ambassador to Brazil, Clifford Sobel, told to Exame magazine 10 days before the arrival of US President George W. Bush to Sao Paulo.
Sobel answered affirmatively when asked if Brazilian businessmen's fear that "Hugo Chávez' anti-imperialist rhetoric may infect the perceptions about the continent" is justified. "Yes. Investors flee from places where there are no guarantees to do business. And they can go out of South America in search of regions with more stability," Sobel said. He also said that Brazil, the main power in the region should not limit its influence to Mercosur (Argentina, Paraguay, Uruguay and Venezuela). "Mercosur was important for Brazil, but Brazil can do much more, including stronger links with United States. It's not a question of ideology, but a question of results", emphasized Sobel. Brazil conditions any trade negotiations with United States to the acceptance of the whole Mercosur block. US President is scheduled to arrive in Sao Paulo next March 8 for a Latinamerican visit that includes Uruguay, Colombia, Guatemala and Mexico. With Brazil one of the great issues of the agenda will be the development of ethanol in Central America and the Caribbean. Ethanol is also expected in the long run to help erode the influence of Venezuela's Hugo Chavez in the area. Ambassador Sobel said United States wants to have closer links with "friendly" countries in the region which does not include Venezuela's Chavez. "Our attention in South America is in our friends. The agenda with Brazil, Argentina, Peru and other countries is positive. The agenda with Chavez is not", he underlined.