LAN announces plan to invest US$ 2.6 billion in new planes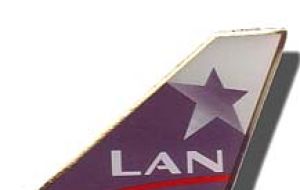 LAN airlines will buy 52 new airplanes over the next five year, increasing their air fleet by 83%. The airline will invest approximately US$ 2.6 billion from 2007 to 2011 to improve services and purchase the new planes. By 2011, LAN will operate 115 planes — 102 passenger planes and 13 cargo planes.
The 52 new planes include 48 Airbus and Boeing passenger planes and four Boeing 777 cargo planes. LAN has grown significantly in recent years â€" in 2007 the airline reported earnings of US$ 3.6 billion, up 18.6% from the previous year. LAN, continually rated as the region's best airline, dominates the domestic market. Last year 78 percent of Chile's domestic passengers chose LAN, 17.6 percent flew Sky and 7.6 percent chose Aerolíneas del Sur. LAN continues to challenge the competition, with promotional deals cutting ticket prices up to 20 percent in the past month (ST April 4, 2007). LAN currently has domestic operations in Peru and Argentina, and plans to expand to the lucrative Brazilian market in coming years. Meantime Fitch Ratings elevated Monday LAN's debt rating from BBB- to BBB with a "stable" prospect. The risk assessment agency said this reveals the company's continued improvement of operational results and credit protection measures, based on increased revenue from passenger and cargo transport plus fuel costs reduction.