Petrobras discovers gas reserves off shore Espirito Santo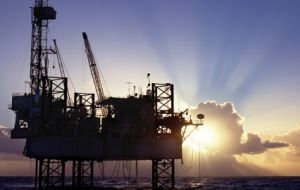 Brazil's government owned petroleum company Petrobras announced the discovery of natural gas reserves in the Espirito Santo Basin in the country's southeastern coast.
In a press statement released this week Petrobras said the discovery was made through an oil well that has been drilled by the company, and sandy reserves saturated with gas, 130 meters thick, were found at a depth of 3,378 meters. The company pointed out that the discovery of these new reserves in the north of Camarupim Field confirms the large depth of the gas reserves, "which should result in an increase in recoverable volumes of gas in the area." The well is being drilled nearly 37 km off the Espirito Santo coast, at a water depth of 763 meters. Petrobras, with a 65% stake, operates the well in partnership with El Paso Corporation, which holds the remaining 35%. "Preliminary results confirm that the reserves extend further north in Camarupim Field, whose commercial capacity was declared at the end of 2006", according to the statement. Meantime in La Paz, the Bolivian government announced a deal to purchase the country's only two oil refineries from Brazil's Petrobras, closing the latest chapter in a year of often-delicate energy dealings between the South American neighbours. Bolivia's hydrocarbons minister Carlos Villegas sent a letter to Petrobras agreeing with the terms and conditions set by the Brazilian company for the Guillermo Elder Bell and Gualberto Villarroel refineries. Formal procedures to transfer control of the refineries and the payment method will be announced in coming days, according to Petrobras. The price is based on the units' future cash flow and has been established at 112 million US dollars. The two facilities provide some 90% of Bolivia's domestic fuel needs. Bolivia produces 50,000b/d crude, of which 25,000b/d is refined at Gualberto Villarroel and 16,500b/d at Guillermo Elder, according to a Petrobras report. Bolivia had initially offered only 60 million US dollars for the refineries, while Petrobras had started as high as 200 million. Originally built by the Bolivian government, the refineries were sold to Petrobras for 104 million US dollars in 1999 as part of sweeping privatizations that the current Bolivian left-leaning president Evo Morales has vowed to reverse. Morales nationalized Bolivia's oil and gas industry in a surprise decree on May 1, 2006, straining relations with Petrobras - Bolivia's largest foreign investor. Talks over the refineries' sale had re-kindled tensions, with Brazil threatening to cut back its Bolivian investments and seek international arbitration, and Morales barring Petrobras from exporting petroleum products refined at the facilities. Brazil currently buys about 25 million cubic meters of Bolivian natural gas a day representing about half of Brazil's gas consumption, and more than two-thirds of Bolivia's gas output.