Ecuador's Correa, the continent's leader with most support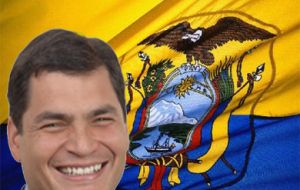 Ecuador's president Rafael Correa is the Latinamerican leader with most support in the continent while his counterpart in Guatemala Oscar Berger ranks in the opposite end, according to a report published by the Mexican public opinion consultants Mitofsky.
Correa took office last January 15 and according to the latest opinion poll in Ecuador has a 76% support, ahead of all other American leaders. The second most popular leader, by a slight margin, is Colombia's Alvaro Uribe with a 75% support last April in spite of being five years in office. Mexican president Felipe Calderón who took office last December follows with 65% approval, the same as Venezuela's Hugo Chavez who has been in office for eight years. President Evo Morales from Bolivia has 64% support. At the other end figure Guatemala's Berger with 20% approval; Panama's Martin Torrijos, 24%; United States George Bush, bashed by the Iraq war with 36% and Dominican Republic Leonel Fernandez, 38%. The middle ground is occupied by Nicaragua's Daniel Ortega, 61%; Uruguay's Tabare Vazquez, 60%; Argentina's Nestor Kirchner 57%; Honduras Manuel Zelaya, 57%; Antonio Saca from El Salvador, 56%; Costa Rica's Oscar Arias, 55%; Paraguay's Nicanor Duarte, 54% and Chile's Michelle Bachelet, 51%. Below 50% are, Brazil's Lula da Silva with 49%; Peru's Alan Garcia, 49% and Canadian Prime Minister Stephen Harper, 45%.