Falkland Islands appoints tax expert new Attorney General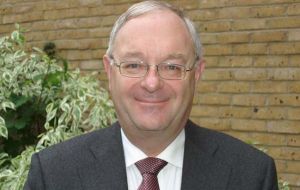 The Falkland Islands Government officially announced Wednesday the appointment of Mr David Pickup as its new Attorney General.
Mr Pickup is currently Director General of Her Majesty's Revenue and Customs, prior to which he was the Solicitor for Customs and Excise. He will take up his appointment in the Islands on 1st September 2007. Commenting on the appointment, Chief Executive, Chris Simpkins said: "The Falkland Islands Government is extremely fortunate to have attracted such a high calibre candidate to this important post. David comes with excellent references and a wealth of experience at the highest level in government having managed large legal teams and some very high profile cases on behalf of Her Majesty's Government. His skills and experience will be a great asset and I'm looking forward to working with him."David Pickup, who is aged 53, has been a member of the Government Legal Service in the UK since qualifying as a barrister in 1976. After spells in the litigation and advisory divisions of the Treasury Solicitors Department, he became Head of the Judicial Review Team in 1987. Amongst his casework during this period was acting as Solicitor to the Cleveland Child Abuse Inquiry, and acting for the Crown at the Gibraltar "Deaths on the Rock" Inquests. He headed the Chancery Litigation Division from 1990 to 1991, and from 1991 to 1995 he was the Legal Adviser to the Ministry of Defence, leading a team advising the Ministry on general legal matters, but with a concentration on matters relating to the use of the armed forces in the UK (particularly Northern Ireland) and overseas, and on defence procurement issues. From 1995 to 2005 he was Solicitor for the Customs and Excise heading a team of 130 lawyers and 230 other staff, providing legal services to HMCE and prosecuting drug importations, VAT fraud and other criminal cases investigated by the Commissioners. He was also a member of the Board and Management Committees of the Department. In 2004 it was announced that David was being suspended from duty as part of a police investigation into Customs and Excise's handling of a series of excise diversion frauds in the 1990's. In his announcement to the House of Commons, the Economic Secretary to the Treasury explained that David, and Terry Byrne ( Director General , Law Enforcement HMCE) were being suspended because their seniority and the broad scope of their responsibilities made it impossible for them to remain in their posts during that investigation. He emphasised that it would be wrong and unjust to prejudge the outcome of the investigation. In 2005 the Financial Secretary to the Treasury announced that it had been concluded that there was insufficient evidence to charge David, Mr Byrne or Sir Richard Broadbent (the former Chairman of HMCE) with a criminal offence, and that further work on the matter would not be justified. David was accordingly reinstated in the successor Department to HMCE, HM Revenue and Customs, who later concluded that nothing that had been revealed by the police investigation provided any basis for disciplinary or any other action being taken against David, and that the matter was accordingly closed. Since his return to HMRC David has being acting as a Director General, one of his responsibilities being to lead a HMRC / Treasury world wide study of the legal frameworks used by different countries to protect their tax revenues against tax avoidance.