False passport of Nazi Eichmann found in Buenos Aires court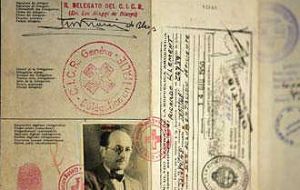 The false passport used by high-ranking Nazi Adolf Eichmann in 1950 to escape to Argentina was accidentally discovered in an old court record in Buenos Aires.
The supervisor of the mass deportation of Jews to extermination camps in Nazi-occupied Eastern Europe during the war, Eichmann fled to Argentina under the alias of Ricardo Klement. The well-preserved passport, issued in 1948 by an Italian delegation of the International Committee of the Red Cross, was presented on Tuesday at the Buenos Aires Holocaust Museum. It also bears the stamp and the signature of the Argentine vice-counsel in Genova, Italy at that time, Pedro Solari Capurro. Eichmann was sentenced to death by an Israeli court. Federal Judge Maria Servini de Cubria recently opened the Eichmann file and found the well-preserved passport, revealed Graciela Jinich, the director of the Buenos Aires Holocaust Museum. Eichmann's wife had presented the passport to authorities in 1960 after he had been abducted by Israeli secret service agents from the Buenos Aires suburb where he lived a normal life working at the Mercedes Benz factory. He was taken to Israel, tried for crimes against humanity and hanged in 1962. "This document leaves no room for doubts on how easy it was for not only Eichmann, but also other war criminals, to attain fake identification documents, change their names and enter our country," Jinich said. Eichmann was one of the leaders of the mass deportation of Jews to extermination camps. The United States released documents last year which showed that the CIA learned about Eichmann's location and alias two years before Israel captured him but kept the information secret as part of its efforts to combat communism in post-war West Germany. They also showed that the United States used a large network of spies recruited among former Nazis and that the CIA had virtually no interest in arresting war criminals, focusing instead on Cold War issues. "The American policy of the time was not to pursue Nazi war criminals," said historian Timothy Naftali, who reviewed thousands of documents on CIA ties to Nazis from the US National Archives. "They thought that was the responsibility of the Germans." According to the CIA papers, West Germany knew from 1952 that Eichmann was hiding in Argentina under an assumed identity, but kept quiet about it fearing the fugitive might talk about Hans Globke, a former Nazi who was a top national security advisor to Konrad Adenauer, the chancellor at the time.