Argentine gas cuts pushes Chilean energy plant to bankruptcy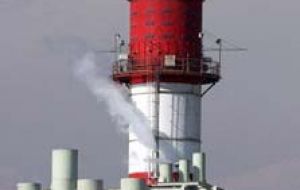 Enersis, a subsidiary of the Chile's energy giant Endesa, will provide GasAtacama with 20 million US dollars needed to save the electricity supplier from imminent bankruptcy.
Lacking a steady supply of natural gas from Argentina, GasAtacama has had to burn expensive diesel to generate electricity. It is thus incurring losses each day it continues to operate.
A large part of the deficit is because the company must sell electricity to Emel, distributor to Arica, Iquique and Antofagasta, at a third of what it costs to produce diesel-based electricity. Endesa, owning 50% of GasAtacama, is unable by contract to directly finance the company's debt. According to Endesa General Director Rafael Mateo, Endesa is limited by its role as silent partner and must work within the requirements stipulated in its contract. Thus, Enersis will cover the deficit that Endesa cannot for a period of three months. In related news, CMS Energy, the owner of the other half of GasAtacama, recently put its shares up for sale. Endesa has a 30 day option to purchase the shares before they are open to other bidders. If this deal is completed, 100% ownership would allow Endesa to fully finance GasAtacama's massive debt. For the moment, officials are still looking for a long-term solution to keep the electricity company afloat. One solution proposes to split GasAtacama's deficit among all clients connected to the Northern and Southern power grids (SING and SIC) who depend on GasAtacama for electricity. The Santiago Times