Norwegian vessel seismic surveying in Falklands and Uruguay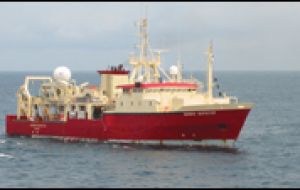 Desire Petroleum PLC (AIM:DES) announced earlier this month that Wavefield InSeis ASA from Norway acquired a majority of the high resolution 2D shallow-seismic data, at a number of potential drilling sites, on its licences in the North Falkland Basin, using the seismic vessel "Bergen Surveyor".
This vessel has just finished work for Falklands Oil and Gas Limited on their licences to the south of the Falkland Islands. "Bergen Surveyor" is also scheduled to begin this month surveying the Uruguayan continental shelf following an agreement with Uruguay's Ministry of Energy regarding the acquisition of a Multi Client Seismic Survey Campaign. The survey will consist of approximately 7,000 km of long offset Multi Client 2D seismic data and is significantly pre-financed by Uruguay's oil government owned company ANCAP which is a project partner and will be entitled to future revenue sharing from Multi Client sales to other international oil companies. Falklands' Desire currently has detailed site survey information on 9 locations (Liz A, B, C, Beth A, B, C, Ninky A, Rachel A and Anna A) based on shallow 3D seismic data. Desire now wishes to acquire 2D shallow-seismic data at locations where the 3D data are not available, at the Ann prospect in Tranche C, and weather permitting, at the Dawn prospect, in Tranche I and the Ruth prospect, in Tranche L. The survey on Tranche C will be on behalf of Desire and its partner Rockhopper Exploration plc; Tranches I and L are 100% Desire licences. These data are necessary in order to be able to drill, providing information on shallow, potential hazards which could affect the surface location of the well bore. Acquiring these data will assist Desire in adding these prospects to the inventory of prospects which can be drilled when drilling resumes in the area. Following these site surveys, Desire will be in position to drill any of ten, possibly 12 locations which will greatly assist decision-making during the drilling programme. It will also ensure that, should the early wells prove successful, it will be possible immediately to continue with an extended drilling programme. Commenting on these developments, Dr Ian Duncan Chief Executive Officer of Desire said: "The company now has a number of locations in the North Falkland Basin from which to select its final drilling programme. With our detailed seismic knowledge and complementary electromagnetic data we are increasing the chances of exploration success once a rig is secured." Desire Petroleum plc (AIM:DES) is an oil and gas exploration company wholly focused on the prospective North Falkland Basin. The Company holds large equity positions in 5 tranches in the area. In the Uruguayan contract M/V Bergen Surveyor will tow a plus 8.000 m streamer and a powerful airgun source that will allow for an improved imaging of both the shallower and deeper targets. Marine gravity and magnetic data will also be recorded during the survey. The final process data is scheduled to be made available to the industry at year end 2007. The survey will provide a consistent semi-regional grid over the most prospective parts of the shelf as well as providing ties to the existing Uruguayan offshore wells. According to Jan B. Gateman Senior VP G&G of Wavefield Inseis, "The Uruguay sedimentary basins are composed of rocks of Paleozoic to Mesozoic ages and were deposited in the pre-rift, sin-rift, sag and passive margin stages. Existing wells drilled on structural highs in the Punta del Este basin, proved that these sediments are within the hydrocarbon generation window". In both, the Punta del Este and Pelotas basins, several leads of structural and stratigraphic character have been identified on older seismic data. These hydrocarbon leads are located in a wide range of water depths". The survey data will be promoted together with a comprehensive interpretation study that will tie and calibrate the geology of the offshore basins of Uruguay with the neighboring basins located in Brazil and Argentina.