Chavez formalizes proposal for his perpetuation in office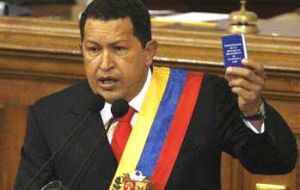 In spite of protests from the opposition and Roman Catholics Bishops conference President Hugo Chavez called for changes to Venezuela's constitution Wednesday night which would allow him to be re-elected indefinitely.
Opening his speech to the National Assembly, Chavez said the changes affect "less than 10%" of the constitution but would bring Venezuela "new horizons for the new era". Chavez, who is seeking to transform Venezuelan society along socialist lines and firmly controls the National Assembly, is expected to have his reforms plan considered and approved within months. The following step is a national referendum. Beginning his speech, Chavez held up a small copy of the country's current constitution, dating to his first term in 1999, and called it one of the world's "most advanced" but said he and members of a presidential commission have been "working intensely" on ways to improve it. Chavez has stressed the need to do away with presidential term limits that currently prevent him from seeking re-election in 2012. But critics accuse Chavez of seeking to become a lifelong leader, like his close friend Fidel Castro in Cuba. They say his main goal is simply to expand his power and assure he will be able to run again in 2012. Venezuela's Roman Catholic Bishops' Conference has also complained that Chavez's reform proposals were drafted without public involvement. Chavez, a former paratrooper commander who was first elected in 1998, denies copying Cuba and insists that personal freedoms will be respected. He and his supporters say democracy has flourished under his administration, noting he has repeatedly won elections by wide margins. Chavez predicted in a televised interview that "the immense majority of Venezuelans" would support his proposal to reform the constitution, but he also forecast a political struggle with the opposition. "Tomorrow our great battle begins," Chavez said. "They are going to launch a campaign tomorrow to try to distort the text and the spirit of the proposal." In Washington, State Department spokesman Sean McCormack said Wednesday that the United States would wait for details of Chavez's proposal before commenting on it. He added that Chavez in the past "has taken a number of different steps ... that have really eroded some of the underpinnings of democracy in Venezuela." Since his re-election to a fresh six-year term in December, Chavez has alarmed opponents who claim that he is headed toward Cuba-style communism while nationalizing the oil, telecommunications and electricity sectors.