Botnia plant workers on strike demand better safety conditions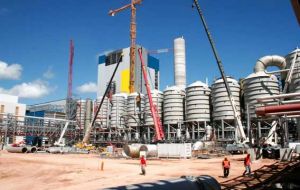 Workers of the Botnia pulp mill in Uruguay voted Friday to continue the work stoppage begun Thursday, until next Monday alleging "insufficient guarantees". This week several workers were intoxicated with sulphur sodium during trials at the plant, which is in the heart of an international controversy with Argentina.
According to a pre-agreement Botnia promised no further sulphur sodium trials on windy days and to limit them to the night shift, plus removing all personnel if the trials had to be done during day shifts. However workers considered the proposal "insufficient" adding that "Botnia promises, promises â€Ã'¦but never keeps its word". Rafael Beron head of the plant's safety and security insisted that workers want the Ministry of Labor and the Mines Department from the Ministry of Industry and Energy to send permanent representatives to check on the trials. Apparently Uruguay's Ministry of Labor representatives are already at the plant to check conditions under which sulphur sodium trials took place. Last Tuesday 12 workers were intoxicated and had to be hospitalized following a leak during the trials with the chemicals; on Thursday another three suffered similar symptoms. Labor Ministry inspectors said trials will not resume until the investigation on this week's incident is finalized. Primary information indicates "incorrect manipulation" of the sulphur sodium components particularly the "extreme volatility" of the final combination which was handled in "non hermetic conditions". Meantime three residents from the city of Gualeguaychú, just across from where the Botnia pulp mill is located claimed before an Argentine court that last Wednesday, while on the international bridge linking the neighboring countries, "they suffered the effects of the sulphur sodium" leak which happened on Tuesday. The pulp mill on the Uruguayan side of the River Uruguay which acts as a natural border and is shared with Argentina, has been questioned by Argentine residents from Gualeguaychú, on environmental reasons, with the support from President Kirchner's administration and the case has been taken to the International Court of The Hague, the Mercosur Disputes Tribunal plus the "dialogue facilitating" efforts sponsored by the Spanish Crown to help find a solution for the controversy. From Buenos Aires it was reported that the Argentine Ministry of Foreign Affairs "once again called on Uruguayan authorities to stop the Orion-Botnia project" to avoid further worsening of the "already tense relations between both countries". According to Buenos Aires press reports diplomatic sources anticipated that "we're in the threshold of a major conflict" with Uruguay over the Botnia plant. The pulp mill, a major investment from Finland's Botnia, is scheduled to begin production in the coming weeks, no later than mid September. The Uruguayan Ambassador in Buenos Aires Francisco Bustillo was summoned to the Foreign Affairs ministry and delivered a protest letter in which Argentina expresses "extreme concern" over the "serious incident" in which several workers at the Botnia plant were intoxicated.