Wheat prices at all times record soar to 8 dollars per bushel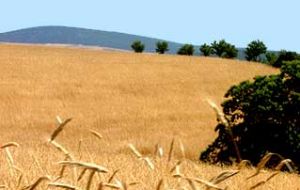 Wheat prices on Friday surged more than 6% to a fresh all-time high driven by thin global supplies and heavy export demand. The sharp price increase, which came on top of the 5% jump on Thursday, reinforced fears of a spike in food inflation as industry begins to pass the costs on to consumers.
In Chicago, wheat topped the 8.00 US dollars a-bushel level for the first time as technical buying and speculators pushed prices up. South Korea bought new wheat cargoes on Friday to buffer its inventories as global stockpiles fell to their lowest level since 1979. India, Egypt and Taiwan are all expected to buy more wheat in the next week. In Paris Euronext milling wheat rose ?7.25 or 2.9% to ?262 a ton. In London, Euronext November feed wheat jumped £11, or 6.3%, to a record high of £186 a ton. This was the highest price paid for a ton of wheat on Euronext wheat futures since their launch in 1998. The November contract has risen more than 90% in the past five months. The wheat market is increasingly concerned about weather damage to the upcoming southern hemisphere crop. Australia's main wheat states of New South Wales, Victoria and South Australia have suffered hot and dry weather for the past two months. Last season, a severe drought cut the Australian crop to 10 million tons, less than half the usual 24 million tons. Traders said the Australian crop may again fall below 20 million tons. European and Canadian wheat crops were earlier this year damaged by bad weather. The US Department of Agriculture has projected that world wheat stocks will drop to 114.8 million tonnes by the end of the 2007/08 marketing year, a 26-year low. U.S. exporters sold 1.232 million tons last week, up 17% from the previous week, the USDA said Thursday. Overseas orders for U.S. wheat from June 1 through Aug. 23 are up 95%. Wheat, valued at 7.7 billion US dollars in 2006, was the fourth-biggest U.S. crop, behind corn, soybeans and hay.