Argentine icebreaker "Almirante Irizar" replacement delayed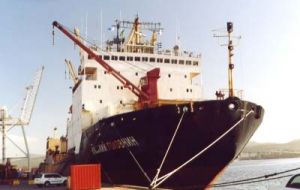 The charter of a Russian icebreaker to replace Argentina's navy "Almirante Irizar" severely damaged by fire, for the coming Antarctic season remains undecided according to Foreign Affairs ministry sources quoted in the Buenos Aires press.
Argentine Armed Forces responsible for Antarctic logistics are requesting 30 million US dollars for the coming 2007/08 season, including four million for the chartered icebreaker, but the issue is pending. "Money is the point, and some agreement must be reached as to where it comes from. The Foreign Affairs ministry will support the request and give its political recommendation", said Argentine military sources. However a Defence ministry spokesperson said the charter of the icebreaker is still a decision "to be approved". Last July a delegation from the Argentine Armed Forces Joint Chiefs of Staff visited Vladivostok for a first hand look of icebreaker "Vasiliy Golovnin" technical conditions. The icebreaker is managed by the Far Eastern Shipping Company and a few years ago operated in the Antarctic. According to Buenos Aires press the military gave the green light to the Russian option for the Irizar. The 10.000 tons "Golovnin", which also carries a helicopter, must among other tasks transport a million liters of fuel to the Marambio Base, Argentina's most important which links to Jubany and Esperanza bases and a dozen of summer scientific camps. "Without an icebreaker we can't supply Marambio and the whole summer campaign is threatened, and we're not in the policy of closing down Antarctic bases", said the Foreign Affairs source. However the Russian icebreaker is not prepared to reach Argentina's most austral base, Belgrano II which is located 1.300 kilometers from the South Pole. "The vessel is too big and has an only propeller". An option is to charter a modified South African DC 3 which can land ski and help with the turnover of the 16 permanent members at the base. The cost is estimated in 400.000 US dollars. Anyhow the final word belongs to the Ministry of Defence and "there's no urgency" to address the matter besides the fact that during the recent overseas trip of the Minister, "she considered the point with China and four other countries".