Ezeiza chosen as best airport in the region; Santiago second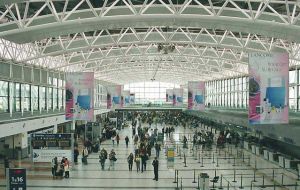 Argentina's Ezeiza International airport has been chosen as the best airport in the region according to the Skytrax 2007 opinion poll which interviewed over 12 million passengers, according to the Airports Council International, Latin America and Caribbean.
Santiago's Arturo Merino Benitez was second and Guarulhos in Sao Paulo, Brazil, third in travelers preference. All three airports are members of ACI-LAC. The organization's 2007 Annual General World Assembly, Conference & Exhibition & ACI Latin America Regional Conference & Assembly is scheduled to take place in Buenos Aires, Argentina from the 04-07 of November. Skytrax's annual survey is considered the most important in the world since it polls passengers from 94 airlines regarding the quality of service at airports as well as by the different airlines. This is considered increasingly significant since most passengers now spend more time in airports than actually traveling and therefore the degree of satisfaction of airlines clients now must necessarily include conditions at air terminals. Travelers' opinions cover a range of 40 categories of different products and services such as hygiene conditions at airports, staff efficiency and courtesy, signals at terminals, walk-able distances as well as more traditional amenities such as food outlets, internet facilities, leisure and resting places, and shopping opportunities. Plus obviously transport to and from airports, languages spoken, communications and migration and safety procedures. At world level Hong Kong's airport was chosen by the Skytrax 2007 edition as the best, followed by Seoul's Incheon and Singapore's Changi. In Europe, Munich was top of the list, and fourth in global ranking with Zurich second in the continent. Vancouver was chosen as the best airport in North America and ninth in world ranking. ACI is the world's airport organization, which is a non-profit organization whose main objective is to foster cooperation among its member airports and other partners in the civil aviation industry. ACI-LAC is one of six ACI regions. ACI-LAC represents the interests of the airport operators from the Latin American and the Caribbean Region. Founded in 1991, the main purpose of this organization is to promote cooperation among all its member airports and any other partner engaged in the aviation world. At present, ACI-LAC has over 57 members from the Latin American and the Caribbean Region. Overall, these members operate nearly 240 airports scattered over more than 36 countries from the region. In 2004, ACI members handled 3.9 billion passengers, 78.7 million metric tones of freight, and 69.4 million aircraft movements. With such cooperation, ACI-LAC purports to give its support in an effort to enhance the entire airport system making it secure, stable, efficient, and environmentally compatible.