Spain and Uruguay optimistic over mill dispute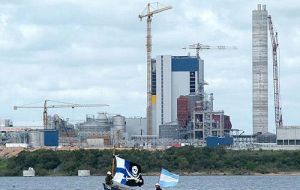 The governments of Spain and Uruguay yesterday expressed their "optimism over reaching a deal in the short term" between Montevideo and Buenos Aires over the controversial pulp mill on the banks of the Uruguay River.
During a press conference in Madrid, both President Tabaré Vázquez of Uruguay and Spanish Prime Minister José Luis Rodríguez Zapatero conveyed their expectation that the dispute would soon be over. According to Vázquez, there are "very clear signs" that would allow a deal with Argentina, "in the short term" over the Finnish-owned cellulose plant. He made a reference to the scheduled meeting between Argentina and Uruguay in New York next week, saying that "in the next few days and weeks the reasons for this optimism will be made public." He also praised the political will of both governments and the mediation by Spanish King Juan Carlos and the Spanish government. Botnia Says Pollution Spat Over Uruguay Plant Won't Cause DelayMetsae-Botnia Oy, a joint venture between UPM-Kymmene Oyj and a Finnish forestry cooperative, said the planned opening of a pulp mill in southern Uruguay won't be delayed by a dispute with neighbouring Argentina over river-pollution. Authorities are checking over the plant, located in Fray Bentos, ahead of its scheduled opening at the end of September, Marko Janhunen, a spokesman for the Espoo-Finland-based company said today. Production at the 1 million-ton factory is on hold until clearance from the Uruguayan government is obtained. Argentina is seeking to block Botnia's mill because of the potential impact on the Uruguay River that runs between the two countries. It took its case to the International Court of Justice in The Hague and negotiations are continuing. Eucalyptus pulp can reduce fiber costs as much as 30 to 50 percent, helping the paper companies combat higher raw-material prices. ''So far we have no reason to expect any delays,'' Janhunen said. ''We're constantly aware of the need to solve the dispute between the two governments and we're in constant contact about it. If it can be solved, it'll be a win-win-win for everybody.'' Botnia is 47 percent owned by UPM, Europe's second largest papermaker. Cooperative Metsaeliitto Osuuskunta and its paper production unit M-real Oyj own the remainder.