Uruguay's per capita annual beef consumption: 54 kilos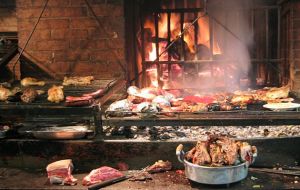 Uruguay's per capita consumption of beef jumped from 40 to 54 kilos in five years making the domestic market the second destination of the country's most important single export according to a release from the local Meat Institute, INAC.
Nafta, the North America Free Trade Agreement (Mexico, United States and Canada) was Uruguay's main market for beef in 2006 when the country's exports totaled over a billion US dollars. The report shows that middle income Uruguayans are the main beef consumers although demand from lower income families has also increased, said Gabriel Costas head of the office responsible for the report. Traditionally Uruguay and Argentina have had the highest per capita consumption of beef, in the range of 60 kilos, but the figure dropped to less than 40 because of the Argentine default of 2001/02 that spilt over to Uruguay. However, consumption begun to rebound in 2004 and this year returned to the more traditional level. During the 2001/02 crisis consumption turned to cheaper options such as mutton and lamb and lately with booming international prices, less dear cuts such as beef ribs for barbecue have become the big attraction. Barbecue and lamb peak consumption days in Uruguay are May first, Christmas day and New Year. The report also indicates that (in spite of the elimination of VAT) other meat options such as pork, broilers, goat, rabbits and even the exotic ostrich and otter have a long way to go before Uruguayans (and Argentines) give up their beef stakes and barbecue.