IMF: markets are moving towards normalization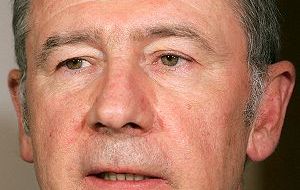 The liquidity crisis on global financial markets is easing and most of the world will emerge unscathed, with the exception of the United States, IMF Managing Director Rodrigo Rato said on Tuesday.
"We have to recognise that the evolution of recent days is moving towards normalisation," Rato told a news conference in Moscow. Rato said the situation on interbank and credit markets was easing after turbulence stemming from the U.S. subprime mortgage loans crisis. But it would take some time to tally the losses suffered by investors in securities backed by home loans that have turned bad. Rato welcomed steps taken by central banks to keep the global financial system afloat. "Events on financial markets are still unfolding and it will be some months before the extent of banks' and investors' losses will become clear," Rato said after meeting Finance Minister Alexei Kudrin and central bank Chairman Sergei Ignatyev. "In this context of a lack of confidence and state of turbulence, we welcome the actions of central banks to maximise liquidity," he said. The U.S. Federal Reserve cut interest rates by a half point last week and together with the European Central Bank, Bank of England, Bank of Japan and other central entities pumped billions into the financial system. Rato's remarks were slightly less gloomy than his comments in Madrid on Monday but echoed the Fund's twice-yearly Global Financial Stability Report just released. Rato said the economic impact of the liquidity crisis on the world economy was still uncertain. "It will probably be felt more in 2008 and probably the most affected country will be the United States," he said. However the credit crisis occurred against the background of a strong world economy, and strong corporate balance sheets. "Although the crisis is serious, I think the impact on the world economy will be modest," he said, pointing to economic "decoupling" in China, India, Russia, Latin America, Southeast Asia and the Middle East. "Also we see the impact of the credit crisis to be limited on European growth." Rato was in Moscow to push an IMF reform agenda designed to boost the voting power of emerging markets nations that will be discussed at its October meeting in Washington. "There's a consensus that emerging economies such as BRICS (Brazil, Russia, India, China, South Africa) should have a louder voice in the IMF", he underlined. Rato who is stepping down from the job early called for a "perestroika" in the IMF and described both candidates to succeed him as "excellent". The two hopefuls are Czech former central banker Josef Tosovsky, supported by Russia and France's Dominique Strauss-Kahn who looks poised get the given the backing of both the European Union and the United States, which between them have enough IMF votes to push through an agreed candidate.