Increased Bolivian gas exports to Argentina in doubt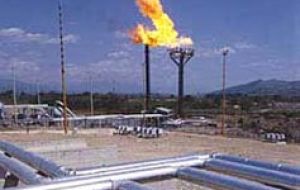 Bolivia may delay ramping up natural gas exports to Argentina by a year while it increases production to meet its contractual commitments, the country's energy minister announced this week.
Minister Carlos Villegas said that under the contract, which calls for Bolivia to pipe 27 million cubic meters per day of natural gas to its southern neighbor, the hydrocarbons-rich nation can delay the start of exports for a year. "The contract establishes that starting 2010 we have to deliver 27 million cubic meters, but we can delay that by one year and we expect to (start exports) by 2011," Villegas said at a meeting with reporters and analysts. "But we may have the necessary export volume by 2010." Bolivia, which has South America's second-largest natural gas reserves and is the region's top exporter of the fuel, currently produces about 40 million cubic meters of gas per day. It currently sells up to 7.7 million cubic meters a day to Argentina and 30 million to Brazil. But analysts say Bolivia's populist government may struggle to double natural gas output to meet export and internal targets after President Evo Morales announced the nationalization of the energy industry in the impoverished country last year.