Climate change helps spider specimen move to Magallanes region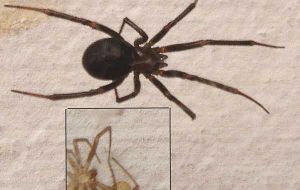 Climate change consequences in the entomologic field have reached Magallanes Region in the far south of Chile and local authorities are cautioning about the appearance of a small spider identified as the "false black widow", which can be lethal for people suffering different allergies.
The scientific name of the specimen is "steatoda gross", and until recently the furthest south she had been found was in Osorno, a hundred kilometers north of Puerto Montt, an area not exposed to the extreme temperatures of Magallanes. According to Patagonia Institute biologist Eduardo Fagundez who has been researching the spider in Magallanes the poison of the arachnid attacks the nervous system and thus is potentially dangerous, if not treated on time, for people who have some kind of allergy. Fagundez believes the false black widow reached the north of Punta Arenas sometime a year ago approximately. She tends to nest in damp areas and corners of homes and buildings or constructions, and a good precautionary measure is to check and shake garments before wearing them. The spider is relatively easy to distinguish since it has an outsized spherical abdomen, thicker and more pronounced than in other spiders. She's approximately three centimeters long, long thin legs, knits a tight, thick web and hangs from underneath waiting on her preys. Fagundez who obviously is not arachnophobic describes the false black widow as "elegant, tall and slender". If you think you've come across one, call the Patagonia Institute Zoology Department in Punta Arenas, phone number 207077.