HMS Nottingham sails for South Atlantic Patrol Task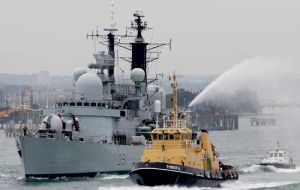 Portsmouth-based warship HMS Nottingham left on Monday to take up duties in the South Atlantic. She will be taking over from Type 42 destroyer HMS Southampton.
The Type 42 destroyer will take on the role of the Royal Navy's Atlantic Patrol Task (South) which provides a maritime presence to protect the UK's interests in the region. During her seven-month deployment Nottingham will help maintain British sovereignty of the Falkland Islands, including South Georgia and the South Sandwich Islands. The aim of the task ship is to provide reassurance to UK overseas territories, Commonwealth countries and other friendly nations, acting as a deterrent to potential aggressors who may wish to threaten UK nationals, territory or interests. Her busy itinerary includes exercises with UK forces based in the Falkland Islands and goodwill port visits to several South American countries. Nottingham's Commanding Officer, Commander Andy Price, said his ship's company was looking forward to a challenging deployment. "The technical, logistical and human factors in taking a warship several thousand miles away from the UK for eight months are considerable. However, HMS Nottingham is ready to do just that," he said. RFA Gold Rover will act as support while deployed in the South Atlantic together with Falkland Islands Patrol Vessel, HMS Clyde. HMS Nottingham is due to return to Portsmouth in May.