Falklands Protection Vessel HMS Clyde Open Day Saturday 10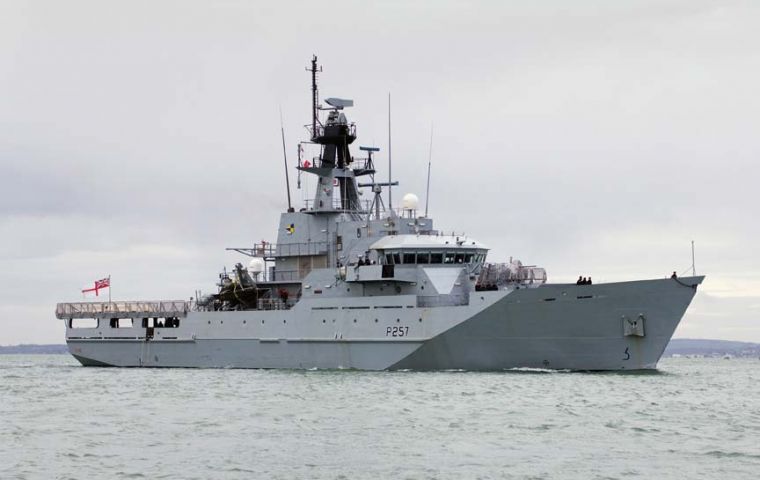 The Royal Navy's first Offshore Patrol Vessel and Falkland Islands Protection Vessel HMS Clyde will hold an Open Day at Stanley's FIPASS on Saturday 10 November 2007 between 13:00 – 16:00 hrs, announced Gilbert House.
HMS Clyde, based in Portsmouth and permanently deployed in the South Atlantic is the first warship to be launched in Portsmouth Naval Base for almost 40 years. She was commissioned at a ceremony in Portsmouth Naval Base on Thursday 5 July 2007. The 80 meters long enhanced River-class ship is a highly capable and versatile vessel, with the ability to operate a variety of helicopters from her flight deck. She has air and surface surveillance radars and has a 30mm gun mounting. Besides her normal ship's company, she has accommodation for an embarked military force. One of the features of the ship is that she is owned and will be maintained by VT Group and chartered to the Ministry of Defence for five years. At the end of that time, the MOD will have the option to extend the charter, return the ship or purchase her outright. This means that without needing to make capital expenditure, the Royal Navy has one modern ship to replace two older vessels – Dumbarton Castle and the former Leeds Castle, the latter having already been decommissioned. Clyde will be able to operate for 282 days of the year, thanks to a system of crew rotation and maintenance carried out in the region with the support of Portsmouth Naval Base. The current HMS Clyde is the fourth vessel to bear the name. The ship's motto is "Clwo" (Strength).