IMF says it's time Argentina deals with outstanding debt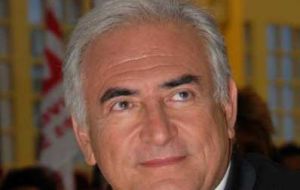 In one of his first statements since becoming the IMF new managing director, Dominique Strauss-Kahn said it was time Argentina deals with the issue of its outstanding debt, including to the Paris Club of creditor nations, thus favoring the return of investments to the country.
Speaking to reporters on Friday a day after assuming the reins of the IMF, Strauss-Kahn said it was up to the Paris Club to decide whether it can restructure Argentina's 7 billion US dollars debt without approval from the IMF. "That is a question for the Paris Club", said the IMF managing director. Six years have elapsed since Argentina defaulted on its debt and suffered the melting down of its economy, one of the severest financial crises in a century. Normally negotiations between a country technically in default and the Paris Club have been done the in the framework of a credit agreement with the IMF with deficit and inflation targets plus economic reforms the indebted country promises to comply. But the prospect of Argentina returning to an IMF program unnerved the previous government of President Nestor Kirchner, who despised conditions attached to an IMF loan program. Last year he paid off Argentina's debt to the IMF, canceling the country's loan program, and said there was "no way in hell" he would strike another deal with the IMF. Strauss-Kahn also said the IMF was waiting to see the new economic program of Argentina's president-elect Cristina Fernandez de Kirchner, who won weekend elections and is the wife of Nestor Kirchner. "What I am expecting is to see what the new government ... will say on the economic side and the economic policy they are going to have," Strauss-Kahn added. "Everyone will be very happy if the Paris Club question can be solved as rapidly as possible". Strauss-Kahn said while Argentina did not need IMF financial assistance, it needed to deal with its external debt to allow for future foreign investment. "To allow for investment to benefit from the different credit lines, the Paris Club needs to clear the Argentine situation," he said. "It is time for Argentina to forget the past," Strauss-Kahn said, adding that would require the country to go to the Paris Club to ask for a restructuring of its debt. Strauss-Kahn visited Buenos Aires last September when he was lobbying for the IMF job and met with President Kirchner, elected President Mrs Kirchner and Central Bank president Martin Redrado. "At the time we agreed Argentina needs to invest heavily in infrastructure", said the IMF Managing Director.