Latest UK avian flu outbreak is virulent H5N1 strain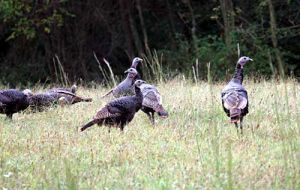 The type of bird flu found in turkeys on an English farm is the virulent H5N1 strain, according to UK government veterinarians. The virus was discovered on Sunday at Redgrave Park Farm near Diss, Suffolk where all 6,500 birds, most of them turkeys, are being slaughtered.
A three kilometres protection zone and a 10km surveillance zone have been set up and the farm is co-operating with vets. The new Restricted Zone requires poultry keepers to isolate poultry from wild birds. Movements within this zone can take place, but movements are not permitted out of the new zone at present Environment Secretary Hilary Benn said that there might be further undisclosed cases of the disease in the area. Mr Benn told the House of Commons: "I'm not going to speculate as to whether this outbreak is going to get larger. "The most important thing, having locked it down, is to trace the contacts and movements so we can take appropriate action." Mr Benn said that movements within the restricted zones can take place, but not out of it. General licences for low risk movements out of the zone are expected to be available "shortly". The Department for Environment Food and Rural Affairs (Defra) DEFRA confirmed in a televised press briefing that the current bird (avian) flu outbreak at Redgrave Park Farm is the highly pathogenic H5N1 virus, last seen in the UK last February on a Bernard Matthews unit near Holton, Suffolk. Testing also confirmed the virus is closely related to that found in outbreaks seen this summer in the Czech Republic and Germany. A UK and a local disease control centre have been established in Bury St Edmunds, with text messages sent to all bird keepers nationwide - especially those in zones on the poultry register. All birds at the affected premises - including approximately 5,000 turkeys, 1,000 ducks and 500 geese - will be slaughtered. Normal procedure is to have all the birds gassed and then put in sealed containers. Police officers are at the entrance to the farm, and vehicles are being sprayed with a jet hose. The affected birds were free-range - meaning they had access to the outdoors and may have been of greater risk of catching the disease. Licences permitting bird gatherings in England has been revoked and bird shows and pigeon racing will not be permitted for the time being.