Brazilian Indians urge Ban to help protect the Amazon basin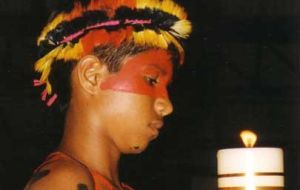 Brazilian Indians and officials urged U.N. Secretary General Ban Ki-moon, who this week visited the Amazon basin, to rally international support to protect the world's largest rain forest.
"We need the secretary to help convert international good will into concrete mechanisms that benefit the residents of the Amazon" Brazilian Environment Minister Marina Silva told Ban upriver from Belem, the Amazon's largest city. Ban was in Brazil, the last stop of a South American tour that focused on the potential impact of global warming and included a visit to Antarctica last week. "I kindly ask you to help create incentives so we and other forest dwellers can make a living here" Amazon Indian Marcos Apurina told Ban, who received a necklace made of native plant seeds. Ban, who hiked a short jungle trail on Combu Island on the Guama River, said: "The United Nations will stand beside you. This is a common asset of all humankind." Earlier Ban petted a three-toed sloth and planted two native trees at a botanical garden in Belem. Ban is preparing for a U.N. climate change conference in Bali, Indonesia, in December, which should start talks to curb carbon emissions after the Kyoto Protocol expires in 2012. Brazil produces the world's fourth-largest amount of carbon emissions, due mostly to the destruction of the Amazon rain forest, according to international environmental groups. Ban did not comment on Brazil's refusal to adopt targets to reduce deforestation and carbon emissions. Instead, he commended Brazil for its efforts to curb forest destruction by 50% over two years, even though the rate has risen again since August. The Amazon releases stored carbon dioxide when trees are burnt or decompose, contributing to global warming. Advancing farmers and loggers clear country-sized chunks of the Amazon forest every year when grain, beef or timber prices are high, less when they fall. Minister Silva, a former rubber tapper and activist, urged Ban to help overcome opposition by some Western countries to a proposal within the international Convention on Biodiversity that would force pharmaceutical companies to pay for drugs derived from Amazon medicinal plants. "He listened and said he would study the proposal," Silva said after a meeting with Ban. Scientists say global warming could turn part of the Amazon into semi-arid savanna within a few decades. Extreme weather has caused droughts in some parts and flooding in others. Ban's planned trip along an Amazon tributary near the port city of Santarem was canceled because the river was too shallow. Ban praised Brazil for its leadership in developing low-emission bio-fuels but said more international research was needed to study the possible impact of their large-scale production on food supplies.