New Argentine cabinet targeted to face pending agenda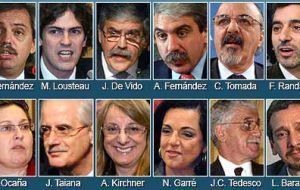 Three clue names will remain in the cabinet of elected Argentine president Cristina Fernandez de Kirchner: cabinet chief Alberto Fernández; Planning minister Julio de Vido the man responsible for upgrading Argentina's energy infrastructure and Foreign Affairs minister Jorge Taiana, it was reported in Buenos Aires.
Alberto Fernandez made the announcements Wednesday mid day from Government House, which overall anticipate continuity with current policies of the Nestor Kirchner administration that ends next December10. However surprises include reorganizing the Interior and Justice ministries with Interior becoming eminently political (contacts with other branches of government, provincial governors, the opposition and the 134 mayors of Buenos Aires province which are the electoral backbone of any Argentine government). Justice adds Security and Human Rights with the job of running every day law and crime issues. Interior Minister Anibal Fernandez is moved to Justice and Florencio Randazzo who has a similar job in the province of Buenos Aires government takes over Interior. Another unexpected move was naming economist Martin Lousteau Economy minister and with 37 years, the youngest ever to occupy such a post in Argentina. He comes from one of the country's largest banks, government owned Banco Provincia de Buenos Aires; before he held the post of Minister of Production from the Buenos Aires province, which is the country's richest. He's a cum laude student from the San Andrés University (Saint Andrew's School University), the Torcuato Di Tella Institute and a magister from the London School of Economics. Lousteau is expected to continue with the current policies of a strong US dollar vis-à-vis the Argentine peso to help promote exports and local manufacturing while strongly boosting domestic demand. Nevertheless his main challenge will be inflation, --in the range of 15%-- and credibility of Argentine statistics currently grossly manipulated to ensure macro cosmetics figures. Ministers of Labor, Defence and Social Development remain: Carlos Tomada (strong support from unions and business associations); Nilda Garré (she has effectively implemented President Kirchner's human rights policies) and Alicia Kirchner (President Kirchner's sister) who manages one of the main cabinet budgets. The head of National Health, a man who has repeatedly clashed with the Catholic Church over abortion and the day after pill, is to be replaced by Graciela Ocaña, an efficient manager of the national health system. Finally the "boys in the kitchen", technical and legal advisors who are responsible for drafting legislation sent to Congress, Oscar Parrilli and Carlos Zannini, considered among the most influential names in the Kirchner couple bunker remain. The Education ministry is split into educational affairs and a new Sciences, Technology and Innovation ministry. A bird's eye view of the names shows that Cristina Kirchner apparently is determined to tackle the main challenges facing her incoming administration: security, by specifically concentrating efforts in an only cabinet post; inflation and credibility with a fresh face, good track record and international financial contacts; lifting Argentina's international standing with Taiana who scheduled all of her international visits with the main Latinamerican and European leaders. Cabinet chief Alberto Fernandez who also steered Mrs. Kirchner presidential campaign and has been President Kirchner's right hand man will apparently play a similar role with Cristina. In any case a piece which does not fit in the newly named cabinet is Planning Minister, Julio De Vido, a ferocious political rival of the strong Fernandez. But according to Buenos Aires press reports he has an "unfinished job" to complete which is ensure Argentina's energy infrastructure –and supply--. A feat which does not seem achievable in the next two years unless there's a drastic change in the current policies of frozen or regulated domestic energy prices that in most cases don't cover costs and has corporations unmotivated to make the necessary investments. This therefore could be anticipating that energy shortages in Argentina will continue, both in winter and summer, (Argentine natural gas dependent Chile has confirmed the scenario) and Mr. De Vido will probably be sacrificed, sometime in the near future, thus setting the foundations for a new more rational approach. Last but not least, so far, not a word has been said about the new Agriculture Secretary, an area extremely sensitive given the recent export tax increases (averaging 30%) which help finance a significant percentage of the federal budget. Farmers are promising organized national level protests and demonstrations if the new government does not back step on the latest decision.