Bolivian constitution draft approval sparks deadly rioting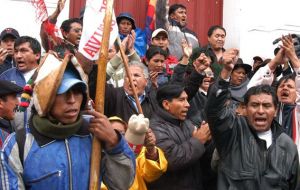 The assembly charged with rewriting Bolivia's constitution and meeting in Sucre produced a new constitutional draft on Saturday amid violent street protests in which at least three persons were killed.
The latest victim was police officer Jimmy Quispe, who was "kidnapped and executed" by unknown assailants, national police commander Miguel Vazquez said. Two demonstrators also died in Saturday's confrontation and a third was in critical condition, medical officials said. Dozens of people were also injured. The draft for the new constitution, a key campaign promise of leftist President Evo Morales, will need to be discussed in detail and then ratified by a majority of Bolivia's population. "All the text of the state's constitution has been approved unanimously," assembly President Silvia Lazarte told reporters. The draft was approved mainly with votes from Morales' party as most opposition representatives boycotted the debates to protest moving the assembly to an army compound. Outside the compound, protesters clashed with police in demonstrations demanding assembly delegates name Sucre Bolivia's "full capital," and move the seat of government and Congress to Sucre from La Paz, a bastion of support for Morales. Protests over the capital began in August, forcing the assembly, which sits in Sucre, to suspend debates for three months, prompting the assembly's governing body to move sessions to an army facility on Friday. The protests come amid a power struggle between Morales and his conservative rivals, who want more autonomy for the regions they govern and who also support the capital switch. Nominally, Sucre is Bolivia's capital, but it is home only to the top courts, while the legislature and the seat of government have been in La Paz for over a century. The rightist opposition renewed its call on Saturday for "civil disobedience" in the eastern regions, where anti-government sentiment is strong, and vowed to disregard the new constitution. Conservative ex-president Jorge Quiroga, leader of the Podemos Party, charged it was a "constitution drafted in a barracks, written with rifles and bayonets, and stained with the blood" of locals. Morales' supporters have staged huge protests in recent months opposing calls for the capital's relocation, and thousands of them traveled to Sucre this week pledging to "defend" the assembly. During the campaign that brought him to office nearly two years ago, Morales said the assembly would serve to cast a mold for a new state in which the country's indigenous majority would have a greater say. Critics say Morales, Bolivia's first Indian president, is governing only for his Quechua and Aymara power base in the west of the country, ignoring the needs of the middle class in urban areas like Sucre and other relatively prosperous cities in the east. Morales in May 2006 nationalized oil and gas interests in foreign hands and is intent in having the state taking over the administration of natural resources.