Overseas Territories minister Falklands visit next January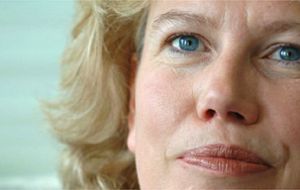 Meg Munn, British Foreign Office Minister for the Overseas Territories, plans to visit the Falkland Islands on 3-5 January 2008. Falklands' Governor Alan Huckle will be drawing up a wide-ranging programme for her in consultation with elected members, according to a release from Government House.
Meg Munn was appointed to her current Ministerial post in July 2007, succeeding Lord Triesman. She is keen to visit the Falklands to understand more fully the issues affecting the Islands and to meet the people here and their representatives personally. Her visit will also help her to prepare for the UK Parliament's Foreign Affairs Committee inquiry into the UK Overseas Territories which gets under way in 2008. Meg Munn will also host the ninth Overseas Territories' Consultative Council (OTCC) in London on 4-5 December 2007, which will be attended by Councillors Mike Summers and Janet Robertson. The OTCC is an annual meeting between UK Ministers and Overseas Territory governmental representatives to discuss the Overseas Territories' relationship with the UK and other policy issues of common interest. Issues on the agenda include constitutional modernisation, immigration issues, human rights, environment charters and climate change, criminal justice, disaster preparedness, and the UK National Audit Office's recent report on risk management in the Overseas Territories. Information on the FAC inquiry is obtainable on www.parliament.uk/facomThe NAO report, published on 16 November 2007, is available on www.nao.org.uk. The NAO last reported on the Overseas Territories in 1997. This also led to a review by the Foreign Affairs Committee.