Falklands: high-tech FIRS gets back on air with new studios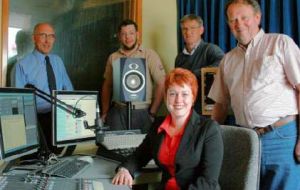 THE Falkland Islands Radio Service (FIRS) have a host of new technology at their fingertips since taking delivery of their newly renovated studios last week.
The compact, computerised new system allows presenters to access music, jingles and programmes at the click of a mouse and can even link up time delayed programmes. The previous equipment was failing and creating problems on a regular basis, explained Station Controller Corina Bishop. The new system will give a better quality of sound, and there will be no variations between British Forces Broadcasting Serviceand FIRS volume levels or when switching to the local news. In the long term there will be the capability to automate the studio during unsociable hours with the effect of increasing local output, said Corina, adding that the equipment has the ability to enable digital broadcast in the future. BFBS support the same playout system so there will always be expertise at hand. "I am delighted that councilors agreed to fund this project – the new equipment means that we will be able to work in ways which were not possible before. Everything from playing music to archiving our news programmes will be easier and I hope that people have noticed a difference already," said Corina. She added: "The BFBS engineers worked very hard to make sure that we were back on air first thing on Tuesday morning and Mario Zuvic switched the BBC World Service onto 530 Medium Wave for us so that everyone still had something to listen to on that frequency. Penguin News Picture Left - right:Government Secretary Pete King, Seb Knight, Stuart Holmes and Councillor Mike Rendell with Station Controller Corina Bishop in one of the two new studios.