Praise for Venezuela but Chavez promises "we will prevail"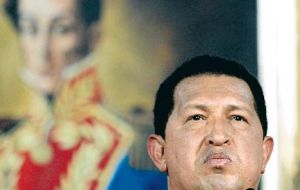 Latinamerica praised the "democratic maturity" of the Venezuelan people, the European Union expressed satisfaction and the United States welcomed the defeat of Venezuelan President Hugo Chavez's controversial reform plans in Sunday's referendum.
"It looks like the people spoke their minds... and I think that bodes well for the country's future and freedom and liberty" said a White House spokeswoman. Mr Chavez narrowly lost his bid to change the constitution but says he will try again to win approval. They were defeated by 51% of the vote to 49%, officials said. Accepting the result, which came as a wide surprise not only to his supporters but also to his opponents, Mr Chavez urged his followers to remain calm. But it was his first electoral defeat since he came to power in 1998 and is being seen as a major blow to his plan to make Venezuela a socialist republic. However many point to the levels of abstention registered at Sunday's election as an explanation for the defeat: more than 40% of Venezuelans did not vote. Just a year ago, he was re-elected with 63% of the vote. It is thought that the bulk of those who abstained were made up of Chavez supporters who chose not to endorse the reforms proposed by their leader. "Venezuela won today, democracy won today, and I am sure that this victory for the Venezuelan people will have a very important impact in the rest of Latin America," said Leopoldo Lopez, opposition mayor of the Chacao of Caracas municipality. In a statement from the White House, the US state department said the Venezuelan people had delivered a clear message that they did "not want any further erosion in their democracy and their democratic institutions". Mr Chavez congratulated the opposition but asked them to "go home [and] know how to handle [their] victory". He insisted that he would "continue in the battle to build socialism" and that his reforms proposal was "still alive". Since winning power in 1998, Mr Chavez has set about introducing sweeping changes in the country's laws aimed at redistributing Venezuela's oil wealth to poorer farmers in rural areas. Brazil praised the "elegant" stance of President Chavez for having accepted the defeat of his government in Sunday's referendum. "The president accepted the result in a very calm and elegant manner. I think this is good for democracy", said Brazilian Foreign Affairs minister Celso Amorim who underlined the peaceful outcome of Sunday's voting. Mexican president Felipe Calderón acknowledged the "bravery" of Chavez for having quickly accepted defeat on his constitutional reform. "My acknowledgement to President Chavez because you need an enormous valor to admit such results in spite of been so tight, not counting they were adverse", said Calderón. He also praised the democratic responsibility of the Venezuelan people. Calderon is trying to rebuild relations with Venezuela damaged when a serious exchange between Chavez and the former Mexican president Vicente Fox. Spanish Foreign Affairs minister Miguel Angel Moratinos congratulated the Venezuelan people on their "democratic maturity" adding he was pleased to see that "free expression of people's sovereignty has been accepted by all sides including those who had promoted the referendum". Cuban Foreign Affairs minister Felipe Perez Roque was more blunt, "those who have organized plots to destabilize Venezuela, to abolish its democratically elected government and even attempt a coup against President Chavez are active and we hope that they quit and let the Venezuelan people build their future in peace". Argentine president Nestor Kirchner described Chavez as a "great democrat" because he elegantly accepted defeat "by a mere point, two points" in his attempt to achieve indefinite re-election. "We also want to thank him for this standing solidarity towards the Argentine people", said Kirchner who also praised the Venezuelan people for their democratic commitment. But the defeat does not mean that Mr Chavez is losing his strong grip on power. The president still dominates the country's congress, a law passed in January allows him to govern by decree and his current presidential mandate lasts until 2013. Chavez described the situation as a defeat "for the time being" and promised to continue to build Socialism "in the framework of the current constitution". He insisted "the proposal is alive". "We will continue working, we'll find the way", he promised his followers.