The world's third highest waterfall discovered in Peru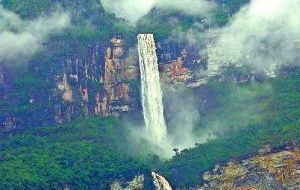 The third highest waterfall in the world is in the Peruvian Amazon rain forest and measures 895.4 meters according to the country's Nacional Geographic Military Institute, IGN. The announcement was made by Foreign Trade and Tourism minister Mercedes Araoz.
Ms Araoz said the waterfall is located in the Cuispes district close to the town of Chachapoyas and is higher than the Yumbilla waterfall which with 771 meters was considered Peru's highest. Yumbilla in Bongará province has four main steps and "is the third highest in the world and the largest in the Amazon district area", added the minister. On March 9 last year a German Explorer Stefan Ziermendorff and a group of Peruvian researchers discovered the Gocta falls which with 771 meters became the world's third in height behind Venezuela's Salto del Angel with 972 meters and Tugela Falls in South Africa with 948 meters. Ms Araoz said that with the latest data on the region tourists could beginning touring the "falls' circuit" which includes the Yumbilla, Chinata and Gocta falls, "a unique experience in the Amazon region". According to IGN the Yumbilla fall apparently is born in a near by San Francisco cave from where the water torrent gushes. "The terrain in the area is mountainous with a lush rain forest and abundant wildlife made up mainly of birds, monkeys, reptiles, bears", indicated the official report.