Massive expansion of steel industry and iron mining in Brazil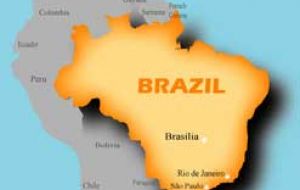 Brazil's second largest steelmaker this week confirmed last September's pledge to invest 9 billion US dollars over the next four years, revealing plans to plow 5.25 billion US dollars into mining, steel and cement projects in Minas Gerais state over the next six years.
Cia Siderurgica Nacional (CSN) President Benjamin Steinbruch on Tuesday signed a protocol with the government of Minas Gerais, which includes expansion of the capacity of CSN's Casa de Pedra iron ore mine from 16Mt/y to 65Mt/y by 2011. The company will also build a new 6 Mt/y pellet plant, a 4.5Mt/y steel mill, and two cement plants. In September CSN announced plans to construct a 2.9 billion, 4.5-million ton steel slab plant near Casa de Pedra. All the iron ore CSN now uses comes from Casa de Pedra, with half mainly consumed in the domestic market. Of the total capex investments, the lion's share will go to projects in the Congonhas municipality with Arcos City expected to get the cement plants while Belo Horizonte will become a steel beneficiation and distribution center for CSN. The investments are anticipated to generate more than 10,000 jobs, according to a CSN news release. Steinbruch said the investment also reaffirms the company's value generation commitment to its shareholders, as well as generating wealth and jobs in Minas Gerais and Brazil. The state-owned company was created in 1941, but went private in 1993 and 1994 after the Brazilian government sold an 81% interest in CSN. The company primarily operates as an integrated steel producer. Earlier this year CSN launched an unsuccessful bid for the Anglo-Dutch steel producer Corus. However, India's Tata Steel successfully outbid CSN for Corus. Brazil is the eighth largest steel producer in the world.