Buenos Aires City boom: 2.3 million tourists in 2007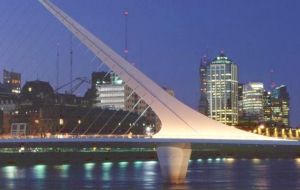 Buenos Aires City will end 2007 with a record 2.3 million tourists, most of them from neighboring countries but also with a significant presence of Europeans and from the rest of Latinamerica.
According to Buenos Aires City Tourism Bureau the number of tourists in 2007 will represent a 9% increase over the previous year. The average daily expenditure of tourists in Argentina's capital is estimated in 164 US dollars. Total number of tourists breaks down as follows: 40% from neighboring countries; 27% from the rest of the Americas; 22.5% from Europe and 10.5% from the rest of the world. Besides tourists arriving by air, land and sea, Buenos Aires has become a hub for cruise vessel activities with an estimated 140.000 visitors and 99 calls. Opinion polls show that tourists choose Buenos Aires for its gastronomy, shopping, show business, tango dancing, football, city tours and night life besides the fact that the exchange rate is highly advantageous for foreigners, particularly from countries with strong currencies such as Europe, Brazil, Mexico and Asia. The Buenos Aires City Tourism Bureau also determined that foreigners remain on average a week in Argentina's capital, also known as the Paris of South America, and tourists prefer four and five star hotels. End of the year bookings are above 85%, concludes the report.