Aztec pyramid found in Mexico City could rewrite history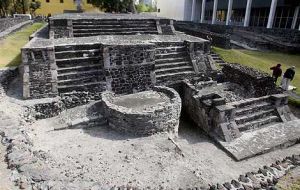 Archaeologists have discovered the ruins of an 800-year-old Aztec pyramid in the heart of Mexico City that could show the ancient city is at least a century older than previously thought. Mexican archaeologists found the ruins, which are about 11 meters high, in the central Tlatelolco area, once a major religious and political centre for the Aztec elite.
Since the discovery of another pyramid 15 years ago, historians have thought Tlatelolco was founded by the Aztecs in 1325, the same year as the nearby twin city of Tenochtitlan, the capital of the Aztec empire. The Spanish razed Tenochtitlan in 1521 to found Mexico City, conquering the Aztecs. The pyramid newly discovered last month as part of an investigation begun in August, could have been built in 1100 or 1200, indicating the Aztecs began to develop their civilization in the mountains of central Mexico earlier than believed. "We have found the stairs of this, much older, pyramid. The Aztec timeline is going to need to be revised," archaeologist Patricia Ledesma was quoted at the site. Tlatelolco is visited by thousands of tourists for its pre-Hispanic ruins and colonial-era Spanish church and convent. Ledesma and the archaeological group's coordinator, Salvador Guilliem, said they will continue to dig and study the area next year to get a better idea of the pyramid's size and age. The archaeologists also have detected a sculpture that could be of the Aztec rain god Tlaloc, or of the god of the sky and earth Tezcatlipoca. In addition, the dig has turned up five skulls and a series of rooms near the pyramid that could date from 1431. "What we hope to find soon should tell us much more about the society of Tlatelolco," said Ledesma. Mexico City is littered with pre-Hispanic ruins. In August, archaeologists in the city's crime-ridden Iztapalapa district unearthed what they believe may be the main pyramid of Tenochtitlan. The Aztecs, a warlike and religious people who built monumental works and are credited with inventing chocolate, ruled an empire stretching from the Gulf of Mexico to the Pacific Ocean and encompassing much of modern-day central Mexico.